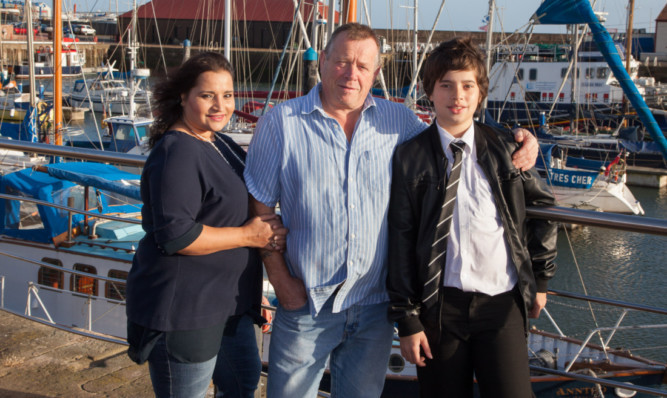 A brave Angus boy battling a rare form of cancer is preparing for a charity-boosting Halloween treat.
Cameron Adam's parents have been astounded by their only child's courage in the face of adversity after the Arbroath primary pupil was diagnosed just months ago with a form of leukaemia previously evident in radiation-exposed victims of events such as the Hiroshima bombing.
The chronic myeloid leukaemia (CML) that has struck Cameron is comparatively common in adults over 50, but rarely found in children, and despite an excellent course of treatment being available to keep the disease under control, his parents Bill and Sunita have been given the heart-breaking news there is currently no cure for CML.
The couple's busy life as owners of Arbroath's popular Harbour Nights guest house has, in their own words, been "turned upside down" by the diagnosis, but as Cameron tackles the disease with a spirit well beyond his young age they are determined to make it a happy Halloween for their son in a fundraising thank you to organisations that have already provided generous practical and emotional support.
Mr Adam said: "After Cameron was rushed into Edinburgh Sick Kids hospital for his first tests and treatment our lives and the minefield of various treatments and prognoses became a massive blur something no parent should have to deal with.
"Then an angel in the form of oncology specialist Dr Lesley Simpson appeared and started to make a path through this tangled terrifying world of cancer we found ourselves in."
Cameron is now on medication that has only been available to children in the last five years and the Ladyloan Primary pupil is responding well to the treatment.
Mum Sunita said: "It is a terrible situation we have found ourselves in, but Cameron is carrying on his life as normal and since Halloween is a favourite time of year for him we just wanted to say thank you to everyone who has sent cards or given support.
"He's making great progress, so we decided to have a fundraising Halloween fancy dress party and the main recipients of money raised will be Tayside Children with Cancer and Leukaemia (TCCL) and Clic Sargent, the two children's cancer charities that have helped us in our battle so far."
Arbroath's Coast nightclub is the venue for the event on Saturday, from 4 to 9.30pm, with a host of entertainment and prizes lined up.
Mr Adam said the response to the party has already been very good but they are hoping more youngsters will want to enjoy the event.
Entrance is free but by ticket only, which can obtained from the couple at the guest house on The Shore, Arbroath.
Photo by Angus Pictures