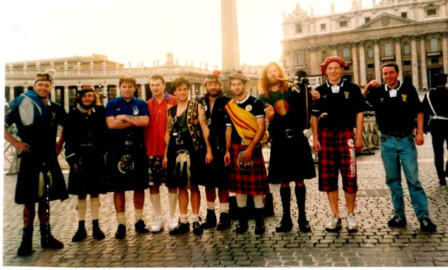 An Arbroath man diagnosed with terminal cancer in August has released a charity book chronicling his travels around the world with the Tartan Army.
Billy 'Mad Dog' McLeod was inspired to write his memoirs based on a career working in the oil industry and his exploits with the Scotland football team's supporters.
Mr McLeod's book has sold more than 3,000 copies in a week.
All royalties from The Ballad of Mad Dog McLeod will go to Macmillan Cancer Care.
The 55-year-old's book sums up the "jovial defeatism" most travelling Scotland supporters are forced to adopt.
"Even when we get beat, nobody bothers," he joked.
Mr McLeod's friend Andrew McArthur wrote the book Over the Top With the Tartan Army and is involved in some of the anecdotes.
One visit was to Italy for the World Cup in 1990, during which his group laid a wreath at Bonnie Prince Charlie's grave in Vatican City.
"We took a wreath with the flowers of all the different clans and by the time we got to Rome it was looking a bit ragged," he said.
Mr McLeod said he had begun writing his stories down before the recurrence of his cancer.
"I was clear for about a year and a half but when it came back it was too far gone to operate but you have to smile and get it done," he said.
Billy's book is available as an e-book from Amazon.