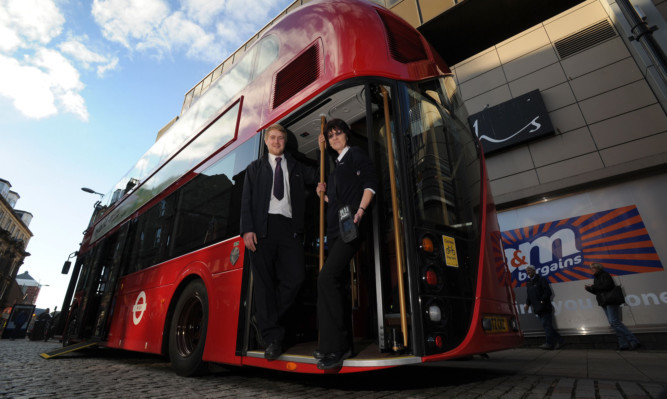 Two distinctive Routemaster buses have begun working on the Tayway 73 route between Dundee and Arbroath as part of a trial.
The original double-decker buses famed for having an open-back platform and a conductor were taken out of service in 2005 after nearly 50 years of carrying passengers.
However, Stagecoach East Scotland has now taken delivery of two New Routemasters the revamped model launched in 2012.
Stagecoach Group chairman Sir Brian Souter said: "We had an opportunity to take these two vehicles on trial for a short period and we are using this to specifically evaluate the various alternative power options available in the bus market.
https://youtube.com/watch?v=QKov1XTVg_8%3Frel%3D0
"Technology that makes buses an even greener choice of transport over the car is advancing rapidly and Stagecoach has been at the forefront of investing in new hybrid electric vehicles in the UK."
The vehicles will work as part of a three-month test to see if the London-style buses can be brought to Courier country.
Andrew Jarvis, Stagecoach East Scotland's managing director, said: "We're looking forward to testing this new hybrid technology and the red livery of the buses will definitely stand out in Dundee.
Borris Bus Home. Well impressed ??? and built in Norn Iron. Even better. #thatssomeyoke pic.twitter.com/V2Xfo1zyho

— @MrsPaddyPlumb (@MrsPaddyPlumb) November 4, 2014
"More importantly, it's about what's under the bonnet and we'll be analysing the fuel consumption of the hybrids on the route over the next few months."
The trial will include looking at the fuel consumption and reliability of the vehicles as well as the feedback from drivers and customers.