A mother and son have been named as the victims of an early morning blaze in a Dundee tenement.
Firefighters performed CPR on Evelyn McCabe, 56, and 31-year-old Steven Bown but were unable to resuscitate either resident of the Park Avenue flat.
Emergency services were called to the Stobswell building at 7am after downstairs neighbour Sean Rowan alerted them.
Fire crews arrived moments later and an eyewitness said Ms McCabe was pulled from the flat. Firefighters then performed CPR before her son was removed from the building a short time later.
Again firefighters attempted CPR.
Both casualties were put into ambulances after receiving treatment but the vehicles remained on Park Avenue for several minutes before being driven away.
The Scottish Fire and Rescue Service and Police Scotland are now carrying out a joint investigation into the cause of the blaze.
Scottish Fire and Rescue group manager Steve Gunning said it is likely the fire had been burning for a long time before emergency services were alerted.
He said: "Early indications are that this fire had been burning for a few hours.
"We removed one occupant from the house of origin of the blaze and very quickly we removed the second."
He was unable to say if either person was alive when removed from the flat.
"We always assume anyone we pull out is alive," he added.
Mr Gunning said it was too early to say what the exact cause of death had been but said the flat had suffered more damage from smoke, rather than fire.
However, he said the floor had collapsed in one room and the roof space of the building had also been damaged.
Inspector Cath Lannen from Police Scotland said: "As a result of a house fire sadly two persons have died.
"We are investigating along with Scottish Fire and Rescue."
Ten other occupants of the tenement were removed from the building by firefighters and police. None of them sustained any injuries.
They were unable to return to their homes while investigations into the blaze began. They were given shelter in Park Avenue church hall, which belongs to Stobswell Parish Church.
The fire is the second major blaze in Dundee in a week.
On March 3, three people had to clamber onto the roof of a tenement in St Andrews Street after a wheelie bin was set on fire in the close.Neighbour woke to find smoke in roomThe downstairs neighbour raised the alarm after smoke began pouring into his bedroom.
Student Sean Rowan, 25, was woken by what he described as a loud "creaking" noise.
Although he initially thought the sound was coming from the water pipes, he discovered smoke seeping into his room when he switched on the lights.
He said: "It was a creaking I heard first.
"I thought someone had left a tap on so it was only when I got up and turned on the light that I saw white smoke coming from this big black spot on the ceiling.
"I got my laptop, my dog, got out of the room then called 999 and they told me to get myself and anyone else in the flat outside."
Mr Rowan said firefighters arrived "within moments" of his 7am call.
He said: "They asked us where the fire was and how many people were in the flat.
"The next thing we knew they were pulling a young, skinny woman out the building, although I didn't see her face. She wasn't wearing much clothing.
"It was really graphic."
Mr Rowan's bedroom ceiling collapsed following the blaze.
He said: "We are reckoning we are going to have to move, to be honest.
"I'm just glad everyone got out of my flat."
He added he did not know the two people killed in the blaze.
"I think they had been living there a while," he said.
Henry Stewart, 70, who lives on the first floor of the tenement, was only alerted to the blaze when police knocked on his door at 7.30am.
"I heard some noise but the guy who lives above me is getting some work done on his flat so I thought it was workmen," he said.
"The police came to the door and said they were evacuating the building. I don't know when the fire started.
"Sean said he has a big black mark on his ceiling and smoke coming through it so the fire must have been going on before that."
Mr Stewart said he then saw firefighters perform CPR on Mr Bown in the street after he had been decanted from his flat.
"I saw him getting CPR but it looked pretty bad, to be honest," he added.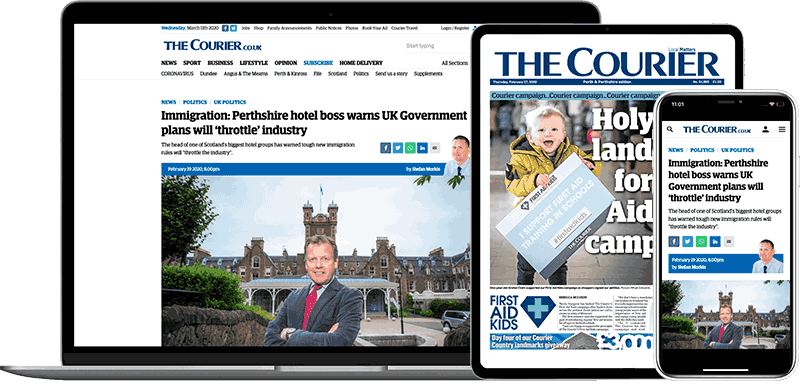 Help support quality local journalism … become a digital subscriber to The Courier
For as little as £5.99 a month you can access all of our content, including Premium articles.
Subscribe