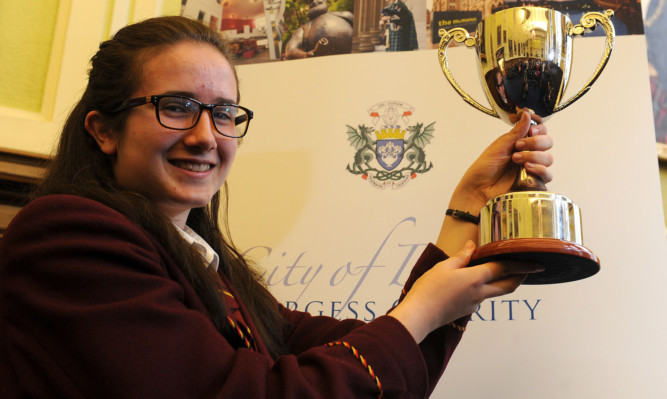 The creative talents of Dundee's young writers have been praised at the end of a competition celebrating the city.
Dundee One City, Many Discoveries, written by 14-year-old Hazel Bengough of Harris Academy, was declared the winner of the Burgess Short Story Competition, at a prize-giving ceremony at the City Chambers on Thursday.
After receiving the prize trophy, Hazel read her story to an assembled audience of parents, teachers, judges and civic leaders.
Afterwards, she said: "I'm really happy. I was so shocked at first because when I was asked to write it I thought it was just to test us."
Hazel has always been interested in creative writing and has aspirations to become a teacher.
Second place went to Amy Powell, of Craigie High School, with her Dundee Short Story.
Third was Caroline Thurston, of Grove Academy, with Th' City O' Discovery.
This was the second year of the Burgess competition, which is open to third year pupils across the city.
Lord Provost Bob Duncan praised the high standards and said he hopes the competition will remain a regular feature of school life in the city for many years to come.Read the winning entries:FIRST PLACE:Dundee: One City, Many Discoveries by Hazel Bengough Harris Academy
No one ever knew why they built them. They had always been there so no one thought to ask. Just the five. They didn't start off with one and work up. There had always been five little penguins lined up on the wall outside St Mary's city church in the town centre. The one at the front thinks he's the only one. He wasn't paying attention when they put the others in. And how would he be able to see them? The one behind him desperately needs the toilet but is too shy to ask the first one if he knows where they are. The middle one was paying attention and knows about the two behind him and where the toilets are. The fourth one is perched on the end of a ledge on the wall, and is constantly worrying about falling off. No one has told him where the toilets are either. Penguins can be mean like that. The fifth one, however, thinks there is a long line of penguins behind him, stretching as far as the eye can see. And no one has the heart to correct him.
Leave the penguins behind and take a walk past the Overgate, and a little further, you will find him there. The dragon doesn't know about the penguins. They put him in a very awkward position, bent over and roaring. He is too far away and they are too small for him to notice them. He is, however, used daily as a climbing frame. Tourists position themselves on his back, at the crook of his neck and smile for the camera. Little children try to climb as high up as they can while their parents' backs are turned. And he just has to sit there and take it. All day, every day, not a word of complaint. Now and again, when town is quieter than usual, he'll turn the other way and cough up some of those fireballs that have been clogging up his throat for weeks. He likes that.
Back away from the dragon and pretend to be interested in one of the dusty black noticeboards, and there he is. One thing the dragon can see is the monkey. The monkey doesn't like where they put him. And he didn't want to come in the first place. The least they could have done, was picked a less draughty spot. With a view. He doesn't know where the toilets are either. But when the odd tourist comes too close and feels a warm trickle-then they'll know what it was. And that it was because they called him "cute". How very dare they.
Turn with your back to the monkey, and squint up at the slightly green objects hammered into the side of the Overgate. One thing no one knows (or cares) about are these. Admittedly, they are the nine trades of Dundee but I don't know what the sculpture with the funny twisty shapes and pointy stick is. Who even knows what a Cordiner does? It sounds like a direction you would have for map reading. Even more disturbing, is 'flesher'. I didn't think cannibalism still existed! What a lovely job title.. "So, what do you do?" "Nothing exciting, I'm a flesher." Do they have to attain a degree infleshing?! Not something to strive towards.
Take a brisk walk through the road works I'll see you on the other side and arrive at Discovery Quay, where four Emperor penguins stand, beaks down, as if checking on their chicks. There used to be five. Not anymore. They have faded slightly over the years and always look as if they're feeling sorry for themselves. Every once in a while, a small child will come by and, almost knowing their sadness, give them a hug. That hug only children under a certain height can give. Preferably below the knee. The one that is nice for a while, before you realise there's snot all down your leg and you have to prise them off you. The penguins don't complain. In fact, I think it brightens up their days. No matter how many hugs, they miss their friend. He was different. He had a positive outlook on life. He was built with his beak pointed upwards. But he was considered a 'Health and Safety' hazard, and they took him away. If you visit the penguins, give them hugs and tell them their friend is keeping well. He's leading a happy lifein Lorraine Kelly's back garden.
These are just some of the city's secrets. Many more out there to be found.
SECOND PLACE:Dundee Short Story, by Amy Powell Craigie High School
I thought it would be good to go to. An evening of cheap music with my friends Margret, Jane and Ann as well as my younger sister Mary. I couldn't have been further from the truth.
It was the second of January 1869 and there was always excitement in the air at this time of year, not all of it to do with Christmas. We were all heading to the basement of Bell Street United Presbyterian Church to attend Mrs Springthrope's annual Winter Concert. Well, so was everyone in the area. We had been to one last year and it was amazing. The way the music seemed to dance around the hall, the atmosphere, it all just seemed magical. We planned on getting there half an hour before so we could get the best seats so had left half an hour before the concert.
There was a chill in the air as the sun had set many hours ago taking the light and warmth with it. We walked along, me, my sister and my three friends. I glanced down at Mary, in her little hat and cloak, skipping on the cobblestones that glistened with frost. She looked up at me and smiled. It was her first time going and she had been talking about it all day. At least I was told she did, I was at the mill, working my hands raw. She was so small and was struggling to keep up.
"Do you want a piggy back Mary?" I asked.
She nodded. I lifted her up with ease. She was just so small. We ran the rest of the way but were met with an unpleasant sight. A huge crowd had gathered around the gate, most of them children and young adults. There was just too many people and we would never get a seat.
I stared pushing through the crowd, trying to get to the gate. Jane and Ann followed but Margret didn't. She told us that she hated crowds and asked us to save her a seat to which we agreed. By the time we had reached the gate they had opened one and were letting a few in at a time.
The crowd was getting stressful and the other gate was starting to moan with the weight. The people beside the gate, including me, Jane and Ann, started calling out, telling the crowd to move back but the just wouldn't stop. Finally the gate broke and we were pushed down the ice coated stairs, falling down several stairs. I quickly got onto my feet but the surge of people quickly pushed me down again. I felt Mary tighten her grip but she was just so small. Someone fell behind us and grabbed onto Mary to try and stay upright. Mary fell. I tried to push back and get her but no one could stop, no one could push back.
"Stop!" I shouted, "Please, I can't find my sister."
I heard someone call my name. I thought it was Mary when Ann appeared beside me and she told me that the door was shut and no one could get in. I tried to tell her what had happened to me and ask why they would do that but I stumbled over and was instantly surrounded by others who had also fell.
I felt the weight of the crowd fall onto me a heel stabbed my back and someone stood on my arm. It felt like I was being beaten to death. I heard something snap and heard a voice cry out in agony. It was my own cry I had heard. I was trapped, we all were. I thought I was going to die. But then a hand grabbed my arm and pulled me out from under the mass of bodies.
They had opened the door and were letting people in. Everyone looked broken. It was hours before they could clear all the bodies. So many had died but no one was allowed to see them, yet. My whole body burned but I had to wait. The injured were all over the place and I couldn't see any one I knew.
About half an hour later I saw a man I didn't recognise who asked for my name. When I told him he asked if I could come with him. But the doctor who had arrived some time earlier stopped me as it would make my injuries worse. I just went with him anyway.
He led me into the basement where I saw the parents of my friends. They were all in tears but not all of them relief. Ann and Jane's parents were sitting beside their dead children. I saw my own parents and ran over to them but they remained silent. They simply pointed at her. Mary. Her frail body, crushed by the crowd.
Time seemed to stop. I just couldn't take it, I had lost my only sister. I cried and cried and the pain never stopped. It still hasn't.
THIRD PLACE:Th' City O' Discovery, by Caroline Thurston Grove Academy
This wit it. Ah cuid finally unveil th' mask ah hud worn fur a guid fev years. Ah cuid finally knock doon the walls ah hud bult' aroond mah broken soul. Ah cuid finally shak th' black dug off o' mah back.
It's said it taks yin smile tae scouk a million tears. Yin wee smile that seems sae real tae a'body on th' outside, bit inside ye'r breakin'. Broken. Ah wis broken. Muckle tae far beyond fixing.
The need fur a painless relief wis searchin' fur a darkness wi'in me it cuid cling oan tae, ah cuid feel it. Efter th'day, th' pain wid be gone fur guid. A'd be wi' thaim again.
Ah used tae think time wid heal me, but it hud bin fev years sin th' accident 'n' ah wis aye an open wound. Ah wis a childless father. Ah wis a wifeless husband. A' fur o' some eejit wha decided tae hae yin tae many down at th' Boar's Rock.
Ah wis in wirk whin ah git th' ca' fae Ninewells. Thare had bin a car crash. Drunk driver. Nae survivors.
Ah juist wanted tae be wi' thaim; by mah family's side again. Ah wanted tae lay beside them.
Mah tremblin' hauns gripped onto th' metal railing o' th' Tay Bridge. Mah hert pounded in mah chest. Tears streamed doon mah face a' th' memories o' mah wife 'n weans while ah keeked doon oan th' river. Wis this how God saw th' world? How he looked doon upon us? How he picked different members o' society 'n destroyed thaime? How he picked me 'n pat me oan th' bridge, richt 'ere, richt noo?
Everyday ah stared oot o' mah affice windae at th' huge metal beast loomin' ower th' water. Fur fev years ah hae fantasized aboot this moment. Death.
Death is yon funny man. He's th' roar at a funeral. He's disapproved by a'body. Ah didnae ken his power. He tells me tae be weel, bit he's taken mah life. A'body thinks ah'm livin', bit ah'm deid, ye ken? Deid oan th' inside. Damned tae hell. Th' ainline heaven ah wull be ony tae is th' yin whaur mah luvs ur. But death demands a sacrifice. Ainline whin ah hae jumpt wull ah be clean. Ainline whin ah hae jumpt wull ah be human.
So ah climbed ower th' railing 'n' prepared tae jump, bit nae afore takin' a last lang look at th' city afore me. Th' city o' Dundee. Yin city, many discoveries. Ah hud discovered a lot in this city. Ah discovered mah wife. Ah discovered mah bairns. Ah discovered mah friends. Ah discovered death, bit ah an' a' discovered life.
"Oi! Mister, whit ye up tae?" Ah nearly slippen 'n fell in surprise o' th' sudden voice. Ah warily turned aroond tae see a laddie nae older than thirteen th' age o' mah eldest son standin' behind me.
Ah wis aboot tae ask whit he wis daein' alone, bit ah spotted a bike near him 'n figured he juist gaed fur a hurl. Mah sons did th' same.
A splashing below me drew mah attention awa' fae th' laddie fur a minute. A group o' seals wriggles oot o' th' murky waters 'n onto a sand bank tae bask in th' rays o' sunlight comin' fae above. They barked at ane another, completely oblivious tae th' breakin' world aroond thaime. Ah envied thaime.
A wee seal pup danced in th' water below. It paddy-bah-ed in th' shallower waters, showin' aff tae its pals. Th' pup flipped onto its back 'n' swam around th' bank, yelpin' wi' glee. Then, as if sensing mah presence, it stopped 'n looked directly intae mah eyes. It had big, broon eyes. Bonnie eyes. Th' same eyes as mah wife.
Mah wife. She wid hae disapproved o' mah position th' day. She'd shak her heid 'n tut at me afore takin' me intae arms 'n squeezin' me in a tight hug.
Mah wife. She wis a guid wifie. She made me a guid man. Noo ah wantit tae be a guid man fur her.
So ah turned tae th' laddie what wis lookin' at me intently.
"Nothin'," ah replied as ah climbed back ower th' railing. "Juist gettin' a better look at th' seals."
He shrugged, git back oan his bike 'n started tae pedal intae th' distance. Ah snuck a last keek at th' seals afore headin' oan mah way.
Ah discovered a lot in Dundee, 'n there wur many mair discoveries tae be made. Bit mah best discovery, by far, wis that ah hud a life tae live.