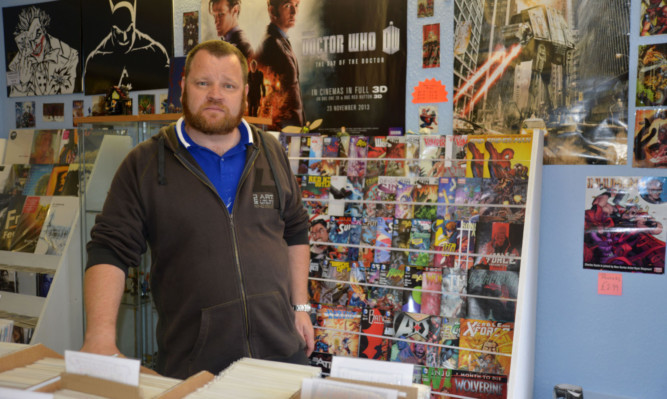 A Kirkcaldy shop has had £500 of merchandise stolen, including a valuable and rare comic.
Kingdom Comics at the Olympia Arcade was broken into some time on Sunday August 4 or Monday August 5.
Thieves made off with a computer, about £40 of change in the till and stacks of DVDs and comics.
Also stolen was a 31-inch Darth Vader figure and a copy of New Mutants 98, featuring the first appearance of popular character Deadpool a rare comic in good condition thought to be worth at least £200.
Owner Andrew Magee is hoping the distinctive items will help trace the thieves and urges anyone who has seen the two-and-a-half-foot Sith Lord or the collectors' item comic to contact the police.
"One of my regulars alerted me to the break-in," he said. "I spent the next day beefing up security. The thieves had managed to bounce the window grate off its hinges and then kicked the door in."
The robbers appeared to have been disturbed as much of the shop's stock had been boxed up but left on the floor.
Following the break-in Andrew was staggered by the response from customers.
Local artists including Kimberley Baxter also donated work to be auctioned off to help him recoup his losses.
"I've got some great regular customers in here and they all came out to help," Andrew said. "Many of my regulars donated comics and DVDs to get my stock back up, which was great.
"I also had some local artists donate their work for auction, which will help me get back on my feet.
"It made me feel better because having break-ins like this isn't good at all. We're trying to form a little community here and it hinders that if potential shops think it's unsafe for local business in the Olympia or in Kirkcaldy generally.
"But the community response was really great. It helped get me back on my feet after the break-in and made me feel great about running a shop here."