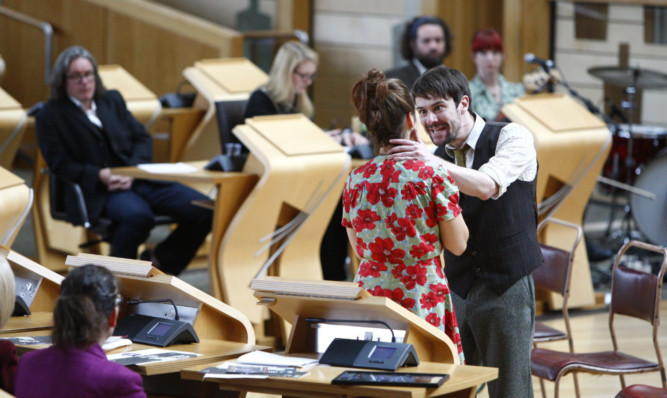 Holyrood's Presiding Officer delivered an emotional tribute to her family's sacrifices in Fife's mines as the first play to be performed in the parliament's debating chamber focused on the kingdom.
Joe Corrie's play about a Fife mining community during the general strike of 1926 was a heartstring-tugging experience for the Mid Fife and Glenrothes MSP, not least because of her mother's additional thespian connection to the writer.
Tricia Marwick said: "My mum, Mary Lee, performed in Joe Corrie's plays in the 1940s in the Tivoli in Cowdenbeath.
"Her dad was killed in a pit accident when she was in her teens, forcing that clever, well-read girl to leave school and start work.
"Later, her husband, my dad, had an accident and was invalided out of the pits and then her son, my brother who is here today, was one of the sacked miners during the last miners' strike.
"My mum spoke of Joe Corrie often. So I have known of and been an admirer of his work all my life."
The National Theatre of Scotland are staging a "showcase" production of In Time o' Strife which had been adapted, designed and directed by Graham McLaren in the debating chamber at Holyrood.
Written by Corrie in the 1920s, the play stirringly explores the brutal lives of a family staring hunger and defeat in the face.
The performance was followed by a Q&A session with Mr McLaren and Ms Marwick, on the theme of "community and identity".
She said: "This is a tribute to my mum and to all of the women of the mining communities.
"A play about their lives, their struggles, their poverty and their determination, being performed by Scotland's National Theatre Company in Scotland's Parliament.
"As the first woman Presiding Officer of the Scottish Parliament I am proud that those voices are speaking for themselves and speaking to us all."
She added Corrie had been "neglected" by history but welcomed the public performance, which was part of the parliament's Festival of Politics.