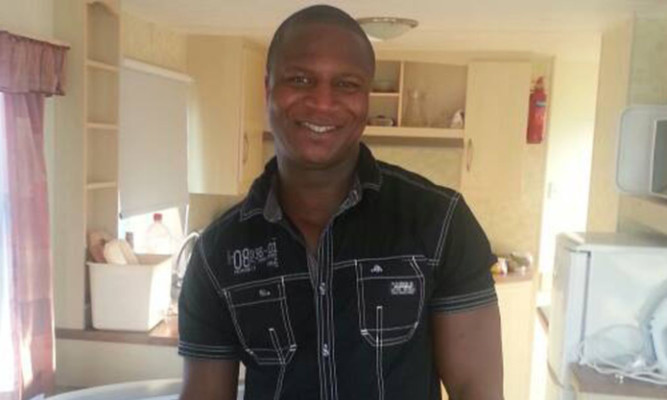 A man who died while being detained by police in Kirkcaldy may have suffocated, it has been claimed.
Sources told The Courier Sheku Bayoh was a victim of restraint which led to 'positional asphyxiation'.
Meanwhile, Mr Bayoh's distraught family have demanded answers.
They claim:Police kept them "in the dark" over their loved one's "brutal" death. Officers changed their story several times after Mr Bayoh's death. Authorities still can't explain what happened. Mr Bayoh's house was inexplicably "seized" and locked down by police.The 31-year-old father of two young boys died on Sunday morning shortly after his arrest on a Kirkcaldy street.
A senior police source said officers at the scene claimed Mr Bayoh had been carrying a knife at the time of theincident.
But this has been disputed by hisfamily who maintained he was a decent, gentle man who would not hurt a fly.
One family member, who asked not to be named, told The Courier that when police eventually told them of his death some eight hours later, their story changed several times.For much more on this story, see Thursday's Courier"This was a man killed early in the morning and his family were not informed until 3pm," he said."The police claimed he had been seen with a machete, then that changed to a knife. Now it's a blade.
"The police can't explain how it came about.One said he was found dead and an anonymous person phoned to say there was a man lying dead in the street.
"The second story was a neighbour phoned to say someone lying in the street needs an ambulance and he died on his way to hospital.
"The third story was this one about the knife and that he died after he was detained."
The man said they were initially told six officers attended the incident onHayfield Road but that later changed to around 15.
"We know he was beaten with batons. The police told us that.
"He was pepper sprayed. It was brutal."
He added: "There are a lot ofquestions which need to be answered.
"How did the police come across him? Where is the machete? Where is the knife?
"He is a young black man. The police met him alive, they beat him and now he is dead.
"Is what happened in Baltimore now coming here?"
As the Police Investigations and Review Commissioner (PIRC) continued investigating Mr Bayoh's death, a senior Police Scotland source admitted: "It doesn't look good for the force."
They added: "He was in the street and positional asphyxia was used.He was never inside a police building.
"He was taken to hospital where they knew early on he was LTP (likely topronounce/die).
"Positional asphyxia is the sametype of thing that has happened in the USA."
Family and friends of Mr Bayoh laid flowers at the scene of his arrest, while residents revealed police had been looking in drains and carrying out a fingertip search of the area. They said PIRC staff had visited on Monday looking for witnesses.
Both Police Scotland and the PIRC were unable to answer any specificquestions on the case.