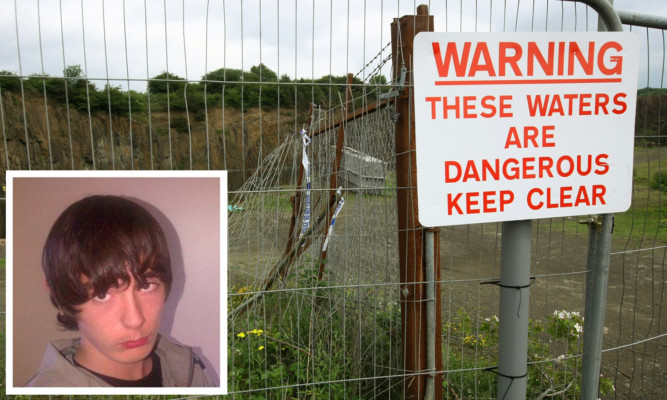 Family of the teenager who drowned in a Fife quarry last month are distraught that they are still waiting to lay him to rest.
Almost three weeks after John McKay, 18, died in Prestonhill Quarry his body is yet to be released.
His grieving relatives criticised the delay and a lack of information about the circumstances surrounding the tragedy.
They have also been distressed by rumours circulating locally and online that the youngster from Kirkcaldy was pushed.
John was among a number of youths who had congregated at the flooded quarry on June 18, the evening before his body was pulled from water.
His grandmother Margaret McKay, 64, said: "We still don't know what happened to wee John that night.
"Every time his dad calls to find out if he's being released yet, the police just keep saying 'no, sorry, not yet' and they're still not giving him a reason why it's taking so long."
She also said John's father, also called John, read the rumours that his son was shoved on Facebook before police officers told him of his death the following morning, after his body was recovered.
Police Scotland is continuing its investigation into the incident, which sent shockwaves around the community.
Inspector Stuart Wilson, of Police Scotland, said: "Police officers contacted the loved ones of John McKay at the earliest opportunity once his identity had been established.
"Unfortunately, with the use of social media, sensitive information can sometimes be published publicly before our enquiries have concluded.
"It is regrettable that this appears to have happened on this occasion.
"I would like to take this opportunity to offer my condolences to the family at this very difficult time and offer them reassurance that Police Scotland will always act in their best interests when dealing with such sad circumstances."
John was the second teenager in 10 months to die at the quarry.
Cameron Lancaster, 18, of Burntisland, lost his life there in August last year.
Their deaths have sparked calls for action to prevent further deaths at Prestonhill, where youngsters regularly gather during warm weather despite warning signs and fences being erected.
Representatives of emergency services, the council, the local community council and politicians met recently to discuss options and are to meet again later this month.
Before schools broke off for the summer holidays information was distributed to pupils about the dangers of flooded quarries.
Fife Council is trying to trace the land owner, registered as Letham Bay Developments Ltd.
A dissolution of the company was voided last year, so it remains active.