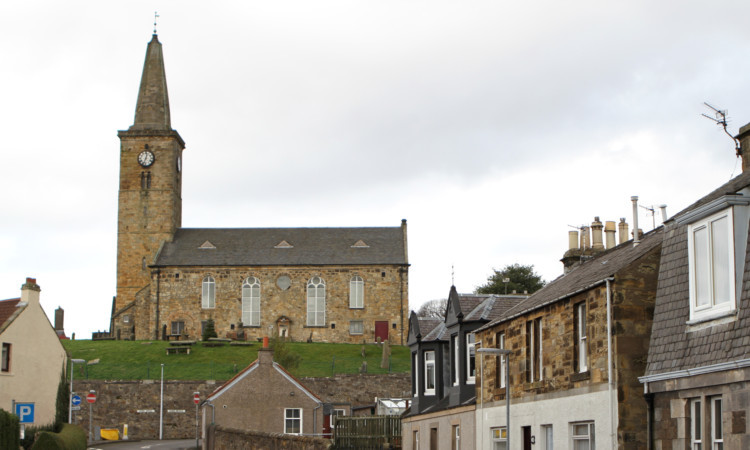 A community archaeology project is helping rewrite the history and architectural development of one of Fife's oldest churches.
Using ground-penetrating radar, geophysical surveys and forensic examination of the remains, the team has been able to reconstruct an image of how Markinch Parish Church looked when Edward I camped overnight at Markinch in 1296.
The project, led by Markinch Heritage Group working with Dr Oliver O'Grady, heritage consultant and independent researcher from OJT Heritage, showed that by then it was already more than 100 years old.
Edward's chronicler suggested it was a monastery, but no traces of a monastic settlement have been discovered.
However, there are indications St Drostan's was already a religious centre in Macbeth's time and even before.
The group's research has also identified the footprint of an ancient church under the existing church. Marks etched on the side of the tower show how high the building once stood.
It has also been possible to trace how the building was gradually dismantled and eventually replaced by a succession of later buildings as religious practices changed.
"It has been a challenge to find out so much about this building without even putting a spade into the ground", said Bruce Manson of the heritage group.
"The team is confident that, over the next couple of years, we will shed much more light on this once-spectacular building and the medieval village of Markinch that surrounded it."
The lost building was once attached to the 12th century tower that has also been the subject of close scrutiny, and a newly discovered Romanesque-style arch will be the subject of future work.
The project continues for another two years, with plans to identify who built the church and when, what it might have looked like inside and more about the master builder and his team.
It is hoped to open the lower part of the church's tower to visitors at the end of the project. Funding is still being sought for conservation work on the church and the adjacent session house.
The project is part of the Living Lomonds Landscape Partnership (LLLP), which aims to encourage people to access, learn about and conserve the area's rich heritage.
The project is being financed by the Heritage Lottery Fund, Fife Council and the Hunter Archaeological Trust.
The LLLP is an association of organisations in Fife and Perth and Kinross who have come together to deliver a landscape conservation programme through 2013-16.
The partnership has received funding from the Heritage Lottery Fund alongside other funding bodies including Scottish Natural Heritage, Fife Council, Fife Environment Trust, Historic Scotland, Princes Countryside Fund and many others.
To find out more, visit www.markinchheritage.org.uk.