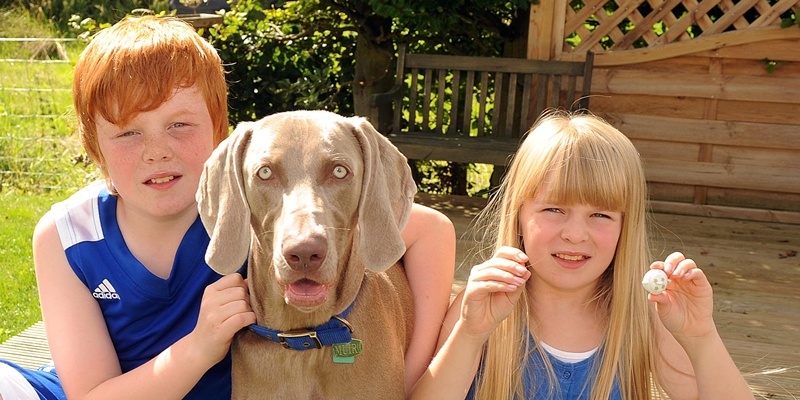 Every pet owner knows dogs should enjoy a balanced diet.
While that may include some greens, one dog also wolfed down the tureen they were served in.
Shadow, the young weimaraner belonging to the Muir family in Carnock, Fife, tried to track down a tasty snack but bit off more than he could chew.
Both vet and owner were amazed to discover what the 10-month-old hunting dog had digested. Surgery X-rays found a mysterious mass in his stomach, and vets were even more amazed when they removed the obstruction and found Shadow had eaten a toy-sized bone china pot complete with toy carrots.
The Muir family were concerned when their much-loved pet lost his appetite and were even more astonished when they discovered why.
Owner John took him to Inglis Veterinary Hospital in Dunfermline for a check-up to get to the root of the problem. An X-ray revealed that Shadow had swallowed something, but the image was a puzzle. It looked like a ball with a lid and two distinct handles.
When they operated, they discovered it was a sizeable porcelain pot, part of a dolly's tea set.UnusualInglis vet Emilie Law said: "I've come across dogs that have eaten all sorts of things, but this is one of the most unusual items we have ever seen.
"The owners were worried. They thought he must have eaten something he shouldn't have."
John said the pot had come from his daughter Hope's doll's house and vowed the family would be keeping toys out of his reach from now on.
Thankfully, Shadow is now none the worst for his unlikely snack, although his owner's wallet is a bit emptier.
Emilie said: "The intestine around the bowl was quite healthy. The operation went well.
"We kept him overnight in our hospital, giving him small amounts of food. He's home now, and is doing well."
Main photo David Wardle.