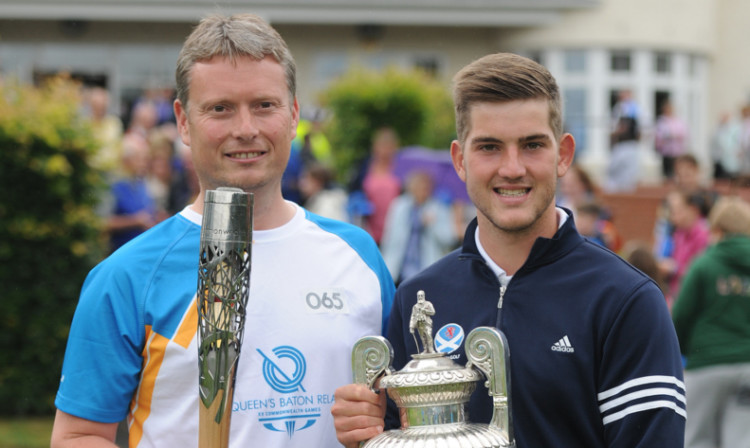 The Queen's baton enjoyed a triumphant arrival in Perth and Kinross as thousands cheered on its bearers.
Highlights included a visit to the former crowning place of Scottish kings at Scone Palace and a flotilla of canoes down the Tay to Perth, with fireworks to greet them.
It ended the day at a huge event on the North Inch, where it was carried on stage by 1986 Commonwealth Games gold medal winner Dan Travers, now a badminton coach.
Hundreds gathered on the park to congratulate the baton bearers among them top local sportsmen and women, courageous youngsters and charity and community champions.
They also enjoyed events and entertainment from musical acts including Gareth Gates, Stooshie, Killer Queen and Dundee's Anderson, McGinty, Ward and Fisher.
The Queen's Baton had arrived in Perth and Kinross more than five hours earlier, with a visit to Blair Atholl.
There, more than 200 people offered a warm welcome to the region's youngest baton bearer, Megan Gray, who has battled illness to achieve sporting success and raise funds for charity.
Among those gathering to cheer her on were Provost Liz Grant and members of the Atholl Highlanders.
The focus moved south, with hundreds lining the streets in Pitlochry bedecked with bunting for the baton's arrival.
Beneath grey skies there was an enthusiastic welcome and plenty of cheering at every step, with the dreich weather failing to dampen spirits despite the need for brollies.
From there it continued its journey to Dunkeld and Birnam, where hundreds more waited, among them 104-year-old local resident Jessie Sinclair, once an usherette at Dunkeld Picture House.
She was delighted to be offered the chance to hold the baton, before it continued on its way to Blairgowrie.
Excited crowds an estimated 2,000 strong gathered in the streets and on the Wellmeadow to applaud the bearers, including Blairgowrie High pupil Jodie Smith. Her family were out in force to cheer her on, including brother Robbie, who piped as she ran.
The baton then made its way to Blairgowrie Golf Club, where the baton bearer was, appropriately, Junior Ryder Cup Team Europe captain Stuart Wilson.
The attention then shifted to Perth, though the cavalcade was running around half an hour late by the time it arrived at Scone Palace.
There it was welcomed to the Scottish Game Fair by hosts Lord and Lady Stormont, before entering the main ring in style in a Bentley sports coupe.
Having been transported by foot and vintage motor car, the baton's next journey was by water, as it was carried on to a boat for the journey down to the Fair City.
There, huge crowds awaited the arrival of the flotilla and yet more on the North Inch, where fun games and musical entertainment had already begun.
Perth had been celebrating since early morning, with carnival rides, drums, music and dancing in the city centre.
The relay continues in Perth and Kinross today. For details of the route visit www.pkc.gov.uk/qbr.