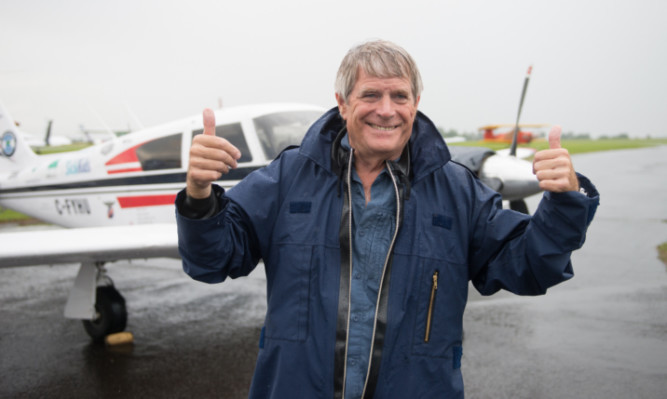 After spending 81 days flying around the world, a globetrotting pilot has returned to Scotland.
Dave McElroy touched down in Perth and in true Scottish fashion, the heavens opened just as he made his descent.
Undeterred by the wet weather, the 67-year-old delighted his friends and family by swooping past the Scottish Aero Club headquarters in a celebratory formation.
When he finally taxied in to Perth Airport, he was met with champagne and kisses from his partner, Debbie Rona, and dog Oscar.
Although he has travelled through some of the most inhospitable parts of the world, Mr McElroy revealed Friday's weather was among the worst he had experienced.
It had been a race against time to get back home as the after-effects of Hurricane Bertha sparked warnings across the UK.
He said: "I just couldn't see anything coming in today.
"The flight back was fine, but to have to come in with this rain and fly in formation at low altitude was a little bit demanding after a six-and-a-half hour flight.
"It felt like coming home to Scotland though.
"I'm going to enjoy a bit of quiet time now before I get ready to fly the plane back to Toronto in a few days."
Mr McElroy undertook the mammoth 59,000-mile challenge to raise £150,000 for Scotland's Charity Air Ambulance (SCAA).
He set off from Perth on May 19 and although he flew solo for much of the time, he welcomed co-pilots on board the single engine Piper Comanche for short stints.
The final person to accompany him was 19-year-old Michael Rose from Forfar, who joined the epic trip at Goose Bay in Canada after raising money for SCAA to secure his coveted seat.
He described the experience as "the best thing I have ever done" and said he hopes to follow in Mr McElroy's footsteps once he gains his pilot's licence later this month.
"Flying over the Atlantic has made me want to do it," he added.
"It was a bit eerie because all you can see is water for miles and miles, but it was such a great experience, although I'm happy to be home at the same time."
SCAA chief executive Gavin Davey said the charity was "hugely" grateful for the efforts of Mr McElroy.