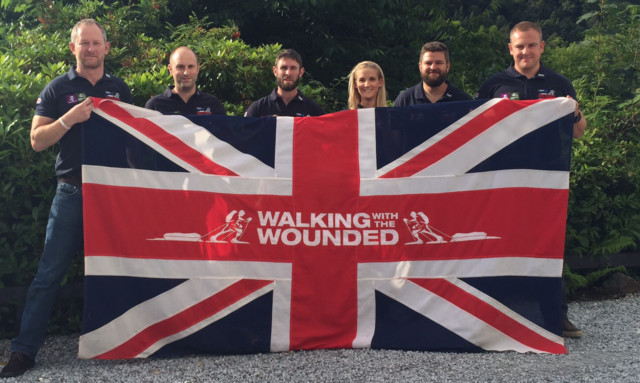 The people of Perth have been asked to turn out today to give a heroes' welcome to six wounded veterans.
Stewart Hill, Matt Fisher, Scott Ramsey, Kirstie Ennis, Andrew Brement and Alec Robotham will visit Scone Palace during their Walk of Britain expedition, a 1,000-mile journey that has won the backing of Prince Harry, who will join them along the route.
The aim of the mammoth expedition is to raise awareness of the work Walking With The Wounded (WWTW) is doing across the country to support wounded servicemen and women.
All the veterans involved experienced physical or cognitive injuries while in the line of duty, and the visit to the crowning place of Scottish Kings marks the end of their fourth day of walking.
Lady Stormont said: "It is a privilege to welcome the Walk of Britain expedition to Scone Palace during their incredible journey throughout the UK.
"We would like to invite members of the local community to come along and to join us in offering a warm Perth welcome to the group as they arrive at the palace at 4.30pm on Wednesday."
The group of six ex-service personnel, four from UK and two from the US, set off on Saturday and will travel the length and breadth of Britain finishing on The Mall and at Buckingham Palace on November 1.
Yesterday they arrived in Highland Perthshire and a civic reception was laid on by Perth and Kinross Council at Fishers Hotel, Pitlochry.
Edward Parker, co-founder and CEO of Walking With The Wounded said: "Walking over 1,000 miles is no mean feat. Yet again, we will be able to demonstrate that despite injuries these men and women look to their future with great determination and courage.
"We are also very excited about walking amongst the communities who have been so supportive of the military and Walking With The Wounded and we look forward to them coming out to support the team on their journey."
One team member is Alec Robotham. Alec passed out of Royal Marines in 2007 and joined 40 Commando and was posted to Helmand Province in 2010. A suicide bomber detonated himself just metres behind him and, whilst he was lucky that the heavy equipment on his back absorbed much of the shock, he sustained life changing injuries to his legs and right hand.
"This last few months I have been feeling quite uneasy and restless about my future," he said.
"WWTW has given me a purpose, something to aim for, a challenge which is needed, and most of all hope for the future.
"The fact that WWTW helps injured servicemen and women with funds and secures employment and their future is an incredible thing and I am very thankful not just for myself but for future personnel who will be supported through the charity."