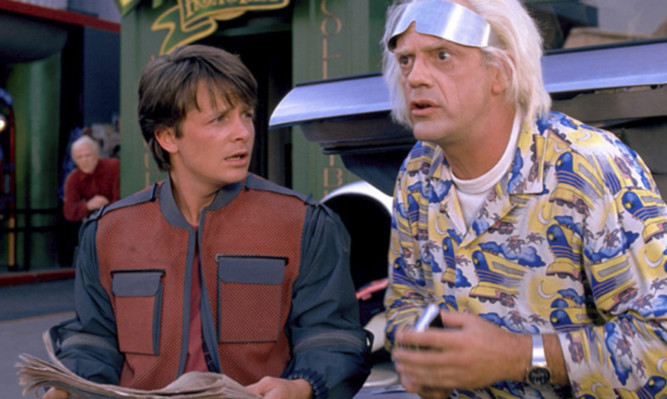 With a sound like a thunderclap, the time machine appeared out of nowhere and squealed to a stop in the McFly driveway.
"Marty! Marty! You've got to come back with me into the future!"
It was Doc Brown. He leaped out of the smoking time machine, dressed in strange clothing.
"What's wrong, Doc?"Marty asked him.
"You've got to come back with me,"Doc said breathlessly. "And Jennifer should come too, because this also involves her. It's your kids, Marty something's got to be done about your kids!"
Without hesitation, Marty and Jennifer joined Doc inside the time machine. Instead of driving it away, Doc touched a switch and the car suddenly rose over the ground. It flew off in a brilliant burst of brightness and colour, headed back to the future!
The original Back to the Future movie, released in the UK on December 4 1985, and spawning two sequels, became one of the biggest hits of the 1980s. The franchise took $940,000,000 at box offices worldwide.
It made a star of the then 24-year-old American actor Michael J. Fox and made the concept of time travel in a modified DeLorean seem easy well, easy that is if you could acquire enough plutonium from your local neighbourhood Libyans to feed your Flux Capacitor and get your vehicle up to 88.8mph!
The plot was simple. An eccentric scientist invents a time machine that hurls Marty McFly 30 years into the past 1955 – where he tried to set history straight and make it back to the future.
But it was the sequel, Back to the Future II, which came out in 1989, that created a vision of life 30 years into the future.
In the film, Marty, Doc Brown and Jennifer Parker travel from October 26, 1985 to October 21, 2015.
They enter their fictional home town of Hill Valley which, by then, is populated with perceived wonders of 'the future' including flying cars, Hoverboards (hovering skateboards), self-drying jackets and the release of 'Jaws 19', which Universal Pictures released a spoof trailer for earlier this month.
As film buffs and science fiction geeks get ready to celebrate so-called Back to the Future Day next Wednesday the day that Marty McFly arrived in 'the future' – you may have noticed that Hoverboards have not quite taken off yet and self-drying jackets are still work in progress. The Jaws series got stuck round about the disappointing fifth movie.
But how many of the predictions about 'the future' have come true?
Uncannily, the Robert Zemeckis screenplay made some spookily accurate predictions about life in the real 2015.
In the film, a copy of a newspaper dated October 21 hailed baseball success for the Chicago Cubs baseball team which proved correct when the often-struggling team made it to the next round of play-offs a fortnight ago. And not a copy of the Grays Sports Almanac to be seen!
But that's not all. Ok, so we're not scooting around on Hoverboards yet, but non-commercial prototypes have been built by Japanese car giant Lexus.
In the 1980s when the ZX Spectrum 48k was about as good as it got for computer-literate kids, the prospect of hands-free gaming, or life without a Kempston joystick, seemed alien. In the film, McFly was mocked by kids for having to use a toy gun when playing a shooting video game. Wouldn't Xbox Kinect users have a similar reaction today as they can interact with the console using gestures and voice commands?
Marty's future kids wear headsets to make calls and watch TV. That's not a far cry from Microsoft's HoloLens, one of several augmented reality headsets being developed, due to go on sale in the USA next year.
And then there's Nike which, for real, is developing self-tying trainers like the pair worn by Marty. A weight sensor could trigger the strap-moving mechanism once your foot is inside. They should be on sale by the end of the year.
The film also includes the famous scene when Doc meets Marty at the clock tower. He waves a handheld computer at him that could easily pass for an iPad. More than 233 million tablets are expected to be sold by the end of this year.
So cars are definitely not flying about our skies yet. But they do exist. US firm Terrafugia has already taken its Transition prototype on a test flight.
Of course, there will be bit of tongue in cheek celebration when the real October 21 2015 arrives. Pepsi are even getting in on the act by releasing a limited 6,500 bottles of Pepsi Perfect, the soda ordered by Marty McFly in the movie. They have gone on sale online in the US only to celebrate Marty's 'arrival date'.
But perhaps the best way to celebrate will be to watch the movies themselves.
And what better way than on the big screen with Odeon and Cineworld cinemas across the UK, including Dundee and Dunfermline, showing back-to-back Back to the Future screenings to celebrate.
Just make sure you make it on time!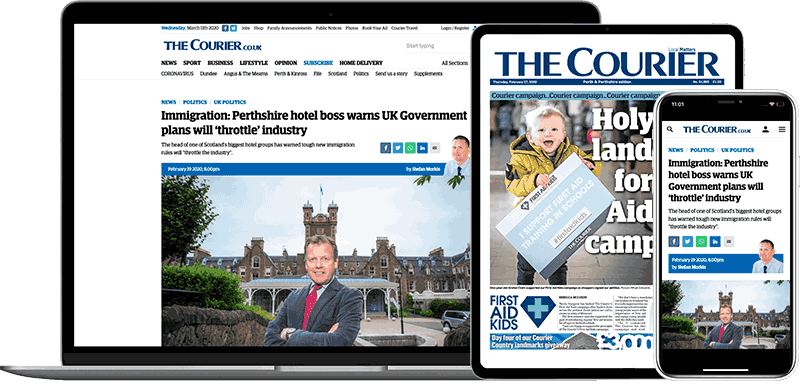 Help support quality local journalism … become a digital subscriber to The Courier
For as little as £5.99 a month you can access all of our content, including Premium articles.
Subscribe