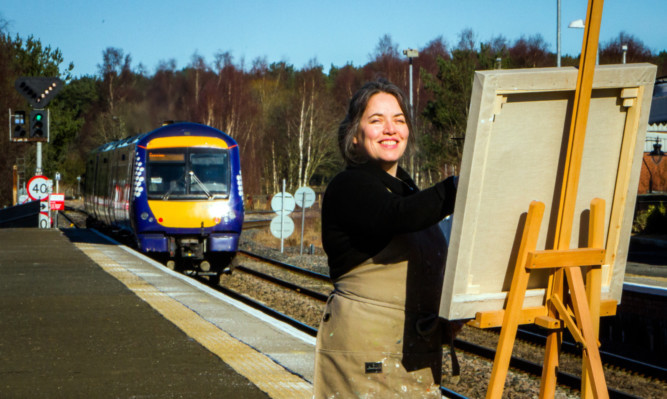 Not many people can give their address as Platform 2, The Railway Station.
But that's where Ladybank artist Kirsty Lorenz has chosen to set up her studio.
The former first aid rooms have been transformed after lying empty for years, thanks to ScotRail's Adopt-a-Station scheme, which was launched over a decade ago and designed to breathe new life into communities along the country's rail lines.
Scotland has 350 working railway stations, ranging from the oldest in Broughty Ferry opened in 1838 to the newest in the Borders, opened last year.
Far from simply being the access point to the rail network for thousands of passengers a day, many older premises are now doubling as important community-based art and cultural centres, as surplus buildings, some dating back to the Victorian era, are leased out.
A range of successful initiatives can now be found across Fife and Tayside, where, thanks to the efforts of local businesses, charities, schools, clubs and individuals, about a dozen stations are at the forefront of a cultural renaissance.
When The Courier arrives at Ladybank Railway Station in rural North-East Fife, what's immediately striking is how busy the place is, considering it serves a town with a population of just 1,500.
The toing and froing of trains is constant, as it's the junction between the Edinburgh-to-Aberdeen mainline and the railway branching north toward Perth and Inverness.
The history of the site dates back to 1847, when the Edinburgh and Northern Railway invested in the line decades before the construction of either the Tay or Forth rail bridges.
Now one of the oldest, largely unaltered railway stations in Scotland, it came to Kirsty's attention when she moved from Edinburgh to Fife "to get nearer the countryside".
The 46-year-old artist and mother raised £13,000 to renovate the old first aid room, with support from the Railway Heritage Trust, Fife Contemporary Arts and Crafts and Business Gateway, and has paid a nominal £1-a-year peppercorn rent since 2009.
The deal has not only protected the A-listed building, still owned by Network Rail, it has made the station more interesting for the travellers who pass through every day.
"I'm not into trains particularly," Kirsty laughs, as she gives The Courier a tour of her bright and breezy workspace.
"What I really like about it is that painting is usually a solitary practice but because I'm in here with the radio on, painting away, I feel part of the community.
"If I was in a garden studio somewhere, I'd feel isolated. But here, the locals know where I am.
"Sometimes I get asked when the next train is, or what platform something is. I like feeling connected. I like being in the community. But I also like that feeling that I could get on a train and go away."
The property, part of a working station, was all boarded up when she was first shown around by Marjorie Ward, the then station master, in 2009 but Kirsty recognised the "amazing" potential immediately and doggedly pursued a year of planning applications before she could install heating, re-glaze and repaint the A-listed, Italianate-style building.
Today the Lanark-born Goldsmiths College London art graduate runs a thriving workshop, where she specialises in the painting of wildflower posies. She also runs community art classes and has managed to retain some historic features, such as the iconic 60s' Kirkcaldy-made linoleum.
With more than 60 trains passing each day, the venture has been great for Kirsty's profile as an artist. But that's not where the story ends.
In another disused part of Ladybank Railway Station, operating independently, another group of artists have been inspired by her example to set up their own art venture, with further ambitions to establish a network of rail-linked cultural venues across Fife.
The Off the Rails Arthouse, which hosts classes, workshops and exhibitions, was established in the former station master's house in September 2011.
Former Dundee College art lecturer Sheila Page, 62, who now works part-time for Education Scotland, helped set it up along with Claire Heminsley and other friends.
"We all knew each other because we had worked together at Dundee College, teaching art," explains Sheila.
"We had heard there were station premises available adjacent to Kirsty and what we wanted to do was set up a place that was very much about teaching and workshops and not a studio for us to work in.
"We looked at various premises and had sort of given up. Then the two-storey former station master's house became available.
"It was needing a lot of decorative work and the wiring checked but didn't require too much building work. So we took it on and, with a small amount of funding, we painted it white, put down flooring, did up the kitchen and had the grand opening in September 2011 opened by our then MP, Sir Menzies Campbell."
The Arthouse opens for classes including drawing and textiles and basketry. Its main activity is weekend workshops aimed at people who have some art experience and want to up-skill, with well-known teachers and artists brought in to teach them. The group are also are hoping to run children's workshops soon.
The building's roots are never far from the minds of those who use it. Many people come to the art classes by train, a recent photography course used the station as a subject matter, while a group of poets called
Platform use the rail venue to meet every couple of months.
"The most amazing thing about this building is the light. It's absolutely beautiful," Sheila adds.
"It's quite magical, working here in the workshop. It's very tranquil and the sound of the trains going through is really lovely.
"A funny thing did happen, however, when we had a photography dark room set up in another part of the station. When they were trying to expose the paper, if a train came through they had to stop because the building shakes," she laughs.
Lynette Gray, 59, of Kinghorn was also inspired by Kirsty's project. The former Penicuik College art lecturer is now running her own studio and gallery, along with artist husband Douglas, in a former waiting room at Kinghorn Railway Station. She is also in the process of setting up ArtLine, which is due to be launched on May 7-8 and will link the museum at North Queensferry station with Inverkeithing, Aberdour and Kinghorn. Kirkcaldy Galleries, next to Kirkcaldy railway station, also wants to get involved, as does Cupar Heritage Trust, which runs its local history museum from a space at the town's station.
It's a similar picture across Courier Country, as surplus railway station buildings are finding new purposes and providing a central focus for their communities in much the same way as the arrival of the railway lines once did.
In Pitlochry, where the circa-1863 railway station is a grade A-listed building, a former newspaper kiosk has been running as a bookshop, raising £160,000 for charity, since 2006.
The idea began in 2005 when local councillor, the late Eleanor Howie, published a letter asking if anyone had ideas for the regeneration of unused buildings on the station. Elizabeth Templeton, along with Priscilla Lorimer of the local station liaison committee, suggested selling second-hand books for charity.
The scheme started so small that no one expected it to become a long-term, serious enterprise. A box or two of books on the platform, or in the waiting room, on a few Saturdays one summer and autumn would be manned initially by volunteers.
However, its popularity has "exceeded everyone's wildest dreams".
In Angus, Arbroath Male Voice Choir uses one of the rooms at the town's station as a music library and store.
The choir's Dr Richard J Irvine said: "Without ScotRail's innovative scheme for the reuse of old station facilities, we wouldn't have anywhere to store our considerable collection of sheet music."
Of course, it's down to Dr Beeching and his infamous cuts in the 60s that many of the old railway stations are now redundant but, now and again, enthusiasts prove that people power can keep the history of these defunct lines alive.
The Brechin Railway Preservation Society (BRPS) runs the Caledonian Railway a steam and diesel
heritage railway that runs on four miles of standard gauge track between Brechin and Bridge of Dun.
The line was originally built in 1848 and became part of the original Caledonian Railway in 1865.
British Railways was still using the Brechin branch line for freight in 1979 but it was clear that its future was bleak. However, a group of railway enthusiasts had the foresight to see that the line would make a "classic" preserved railway and set up the BRPS in an effort to retain it.
In 1992, the society's operating company gained a Light Railway Order to run passenger trains between Brechin and Bridge of Dun.
Tommy Henderson, chairman of the BRPS, says the railway has moved from strength to strength in the years since, hosting birthday parties and meetings by local groups and receiving many thousands of visitors a year, making it one of the most successful attractions in Angus.
"That's no mean feat, considering it is staffed by volunteers," adds Mr Henderson.
And it's not just the once-busy stations around large towns and villages that are now thriving.
Rannoch Railway Station, on the western edge of Highland Perthshire, remains one of the remotest and most picturesque railway stops in Scotland.
While it might not be as recognisable as its northern neighbour Corrour, which famously featured in the film Trainspotting, it still serves as a staging post for travellers on the West Highland Line between Glasgow and Fort William.
Just four trains a day pass through the isolated station, including two sleeper services, and at an altitude of 1,000ft and a half-hour drive from the nearest village, Kinloch Rannoch, it can be all but cut off during the wild depths of winter.
But here amid the solitude and vastness of Rannoch Moor, a handful of hardy residents are making a
living next to the railway.
Among them are husband and wife Jenny and Bill Anderson, who recently took over the Rannoch
Station Tearoom. They live in Renton Cottage an old railway workers' residence next to the platform. And the former office workers from the South of England absolutely love their new life.
"We love Rannoch and are really happy to have the opportunity to run a beautiful tearoom," says Mr Anderson, 56, who made regular visits to his grandparents' in Bankfoot as a child and camped on Rannoch Moor with his brother as a teenager.
"All sorts of people come to Rannoch Station locals, visiting Europeans, walkers, bikers, cyclists, railway enthusiasts and couples or families on a day out. Only 10% of our business is train-related, though.
"Many seem amazed and delighted to see such a lovely tearoom at the end of the road. A lot want their
photograph taken next to the sign."
Renowned for their soup, sandwiches, cakes and beautiful views the couple, who have six grown-up children, pride themselves on cooking with natural ingredients.
One of Jenny's specialities is midge cake, with poppy seeds representing the notorious biting insects, which has inspired an entry in VisitScotland's Taste Our Best Awards. But they also help keep a local visitor centre in order and, under ScotRail's Adopt-a-Station scheme, assist with bulb-planting and general tidiness.
"There's not really a downside to being here," says Bill. "We do get visits from railway staff who keep the place clean but it feels a bit like our station because we are usually the only ones here."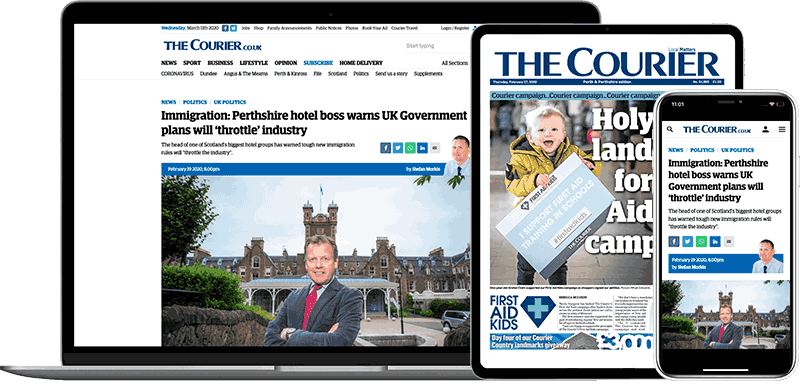 Help support quality local journalism … become a digital subscriber to The Courier
For as little as £5.99 a month you can access all of our content, including Premium articles.
Subscribe