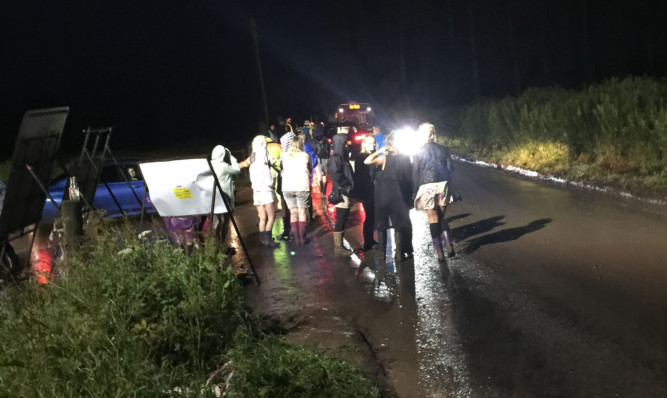 A Perthshire politician has written to the chief executive of Perth and Kinross Council to ask for a "full, balanced and transparent" review of T in the Park.
Liz Smith, MSP for Mid Scotland and Fife, has sent her letter to Bernadette Malone, following a flood of complaints about this year's festival, which was held at Strathallan Castle for the first time.
In the letter, which has been seen by The Courier, the Conservative politician says "it is abundantly clear that public safety was compromised" and that both the volume and extent of complaints is "significant".
Ms Smith states: "I am sure you will be party to the complaints which surrounded serious traffic congestion, the lack of adequate policing and stewarding, the difficulties for festival goers as they entered and existed the site, issues about pedestrian safety on adjacent roads, poor signage, poor hygiene in the toilet areas, fires being lit in the tented areas and insecurity of certain steel barriers."
She also claims that many "loyal T in the Parkers" said this year was the "worst experience" they had endured.
Ms Smith says that many people claimed there was a "threatening and menacing" atmosphere at times at the event.
And she says she remains "very concerned" that the advice of local people appeared to be disregarded.
She writes: "I attended the public information events at both Auchterarder and Crieff, I met with DF Concerts twice and attended one of their briefings and I heard, at first hand, the concerns of local people and the warnings they were issuing, most especially about the unsuitability of the narrow roads for such a high volume of traffic.
"At each stage, we were told that DF Concerts was 'highly experienced' in traffic management and that these narrow roads around Strathallan did not present a problem."
In her letter to Ms Malone, the MSP adds: "After many successful years at Balado, it is very disappointing to say the least that this year's event has been described by so many people who attended as shambolic.
"I am sure it will have a detrimental effect on the future of the event unless there is a very full and open investigation into what went wrong."
A spokesman for Perth and Kinross Council said: "There were a number of issues over the weekend relating to T in the Park which will be examined as part of a full debrief of the event.
"The council will work with all partner agencies, as well as the event organisers, to determine the cause of the issues and what lessons can be learned."
Festival director Geoff Ellis has already apologised for the traffic delays for vehicles coming in and out of the drop-off points.
He said: "Years of infrastructure and tried and tested plans at Balado means that our audience is used to a very quick exit from the site which is not the norm for most other major events.
"We'll take learnings from this year and will work on improving the times for the future."