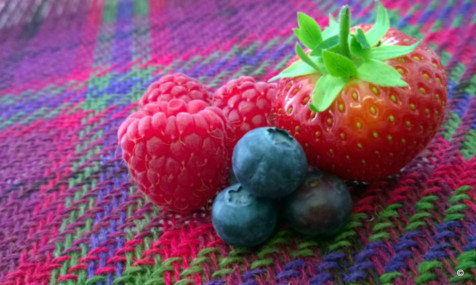 A new tartan which honours Perthshire's berry-growing heritage has been unveiled by a local weaver.
Called Blairgowrie Berries and Cherries, the fabric, is a vibrant mix of pinks, purples and greens.
It was designed by weaver Ashleigh Slater and is registered to local fruit growers Thomas Thomson (Blairgowrie) Ltd.
The pattern caught the eye of the firm's Melanie Thomson when she saw it on display at Ashleigh's Warpweftweave Studio in Lesley Street and she decided to help the designer register it officially.
"Ashleigh's choice of colours in the tartan was exactly right for the fruits that we grow wonderful cherry as the background and blueberries to the fore, with the traditional raspberries and strawberries running through," said Melanie.
"I placed an order for a scarf straight away. I'm hoping it can be used for a range of items such as handbags, table runners, kilts etc and am keen to hear from anyone who is interested in using it."
The area around Blairgowrie has become synonymous with the growing of soft fruit, which has been cultivated in the region since the early part of the 20th Century, leading to it being nicknamed Berry Town.