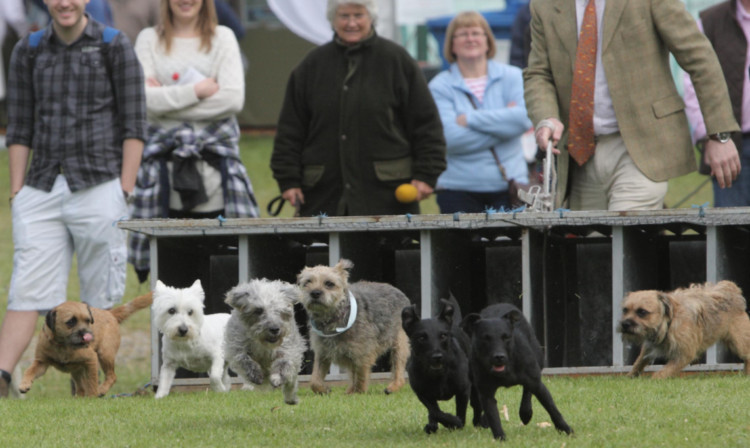 Huge crowds, fine weather and a wealth of attractions combined to make the 26th Scottish Game Fair an event to remember.
Organisers wondered whether the hugely popular show had peaked last year, when they celebrated its silver anniversary.
So they were delighted to see record crowds flow through the gates at Scone Palace on Saturday and a similar number attend on Sunday too.
As expected, one of the highlights proved to be the Welsh Axemen, who took up razor-sharp blades to compete against each other in a tree-felling simulation in the main ring arena.
Their show of strength and skill amazed onlookers, who were just as dazzled by the tree-climb finale to their performance.
The Game and Wildlife Conservation Trust for whom the show is a vital annual fundraiser was also delighted with the World of Gundogs show.
Expert teams of dogs and owners displayed their skills during a variety of challenges, including a water retrieve.
"It's been a superb fair and we simply couldn't be happier," said the trust's Katrina Candy.
"The weather was very kind to us and though Friday started with a bit of drizzle, Saturday and Sunday were just fantastic. We had record numbers through the gates on Saturday and the crowds on Sunday were also very big.
"What's made us even happier has been that they stayed with us throughout the day, making for a great atmosphere from start to finish."
She added: "We wondered whether the event might have peaked last year as we celebrated our anniversary but I really do think we've succeeded in beating it.
"Everyone seems to have had a great time and I know that our many traders have done well. We now look forward to next year's event."
Local businesses also clashed in a keenly fought tug of war competition, while there were also falconry, fishing and shooting demonstrations.
Having welcomed working hill pony demonstrations to the fair for the first time in 2013, the trust was delighted to see an even greater number of entrants from all over the country take part this year.
The ponies proved a real hit in the main ring, with adults, youngsters and event organisers including Katrina falling for their charms.
Away from the main ring there was plenty of alternative entertainment to be found, with the hundreds of exhibitions in the trade village.
Pictures by Phil Hannah