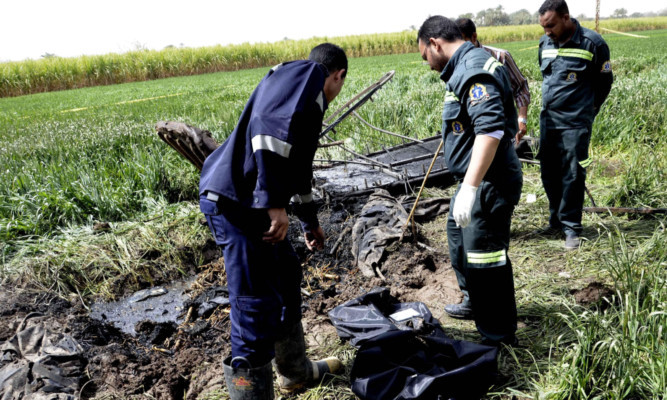 A faulty gas pipe has been revealed as the cause of a hot air balloon crash in Egypt that claimed the life of a Perth woman.
Yvonne Rennie, 48, was killed along with 18 other tourists when the balloon burst into flames and plummeted to the ground on February 26 2013.
Her husband Michael and pilot Moman Mourad were the only survivors. Mr Rennie was too traumatised to be interviewed by investigators for the report.
Following the tragedy the Egyptian Civil Aviation Authority grounded all balloon flights for two months and launched an investigation.
The organisation's 219-page report determined that a fuel leak, caused by a gas hose connection fault, led to the balloon catching fire, gravely injuring the pilot, who fell to the ground below. The fire then caused the balloon to crash.
It states: "The probable cause for the accident as seen by the investigation committee is due to a hose fuel leak at the upper portion of the forward right hose connected to burner number 193 capturing its ignition source from the burner's fire, causing a fire that caused a major and direct injury to the balloon captain.
"The hose was made in 2005 and has accumulated high flight hours, sometimes under adverse conditions. This service life and conditions increase the likelihood that the hose experienced weaknesses/defects that could have contributed to the gas leak."
It also criticises Mourad who suffered 70% burns in the crash for failing to communicate with Luxor Airport control tower before taking off and failing to maintain contact with air traffic controllers once airborne.
Eyewitness accounts included in the report tell how Mourad dropped a length of rope to ground crews after selecting a place to land, only for flames to suddenly erupt as the balloon hovered above the ground.
The blaze incapacitated Mourad, who was "not able to control the balloon or even to control himself". At this point, he and Mr Rennie leaped from the basket.
As ground crew rushed to the captain's aid, others were no longer able to hold the balloon's rope, resulting in it rising rapidly in the air. Several other passengers jumped from the balloon but did not survive the fall.
It is understood the document will now form the basis of a criminal case against Mourad and a maintenance engineer, though Mourad insists he followed company policy.
Mr Rennie was treated in hospital before flying home with his wife's body and she was cremated in a ceremony in her home city.