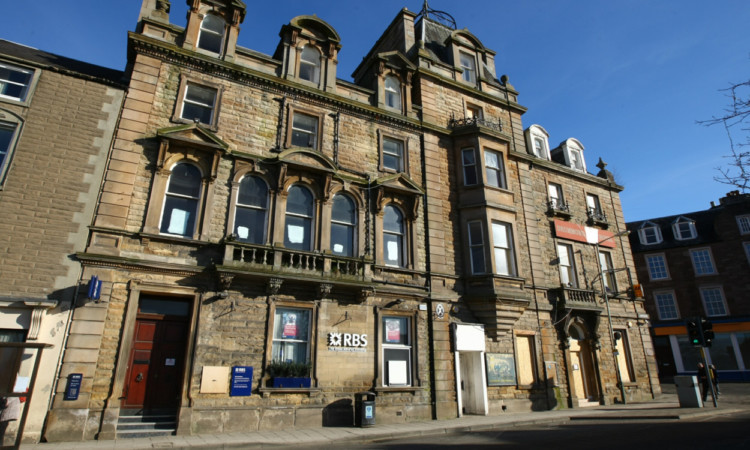 Efforts are being made to harness people power in a bid to save a derelict Crieff landmark that dates back to the Jacobite era.
The Courier can confirm that Crieff Community Trust (CCT) has been in talks with the Royal Bank of Scotland (RBS) with a view to establishing a Community Right to Buy that would enable a long-term solution to be found for the Drummond Arms Hotel.
Ailsa Campbell, chair of CCT, said the group will send the proposal, along with signatures contained in a petition, to the Scottish Government, with the aim of finding a community or multi-purpose use for the former hotel, which is located in James Square.
Now in a dilapidated state the Drummond Arms Hotel could be saved thanks to RBS approaching CCT with an offer to transfer the bank's portion of the property to the trust for a nominal sum.
RBS was housed beside the hotel but had to close its doors in June due to structural damage.
Mrs Campbell told The Courier that the hotel would be assessed by an independent valuer but she expects it will have a "pretty low" price tag. She addded that she hopes to have the plan approved by June.
The building has historic roots, with Bonnie Prince Charlie holding his last war council there on February 6 1746, prior to defeat at Culloden, when the hotel was known as the Drummond Arms Inn.
Mrs Campbell said that a purchase can only be agreed once a feasibility study, a detailed business plan and adequate funding are in place, but she knows just how much it would mean to the people of Crieff if plans come to fruition.
"A lot of people have very good memories of the Drummond Arms and it would make a huge difference to Crieff if the building was used again," she said.
"It's been a hot topic and is the main priority for us. I was only in it once but loved its gilded ballroom that had lovely views overlooking the town and surrounding hills.
"It has an emotional pull. However, it is in a diabolical state."
Mrs Campbell revealed CCT has "worked closely" with the Scottish Government on the application and taken advice on the matter. The application must be supported by at least 10% of registered Crieff voters, with the names to be collected at the end of March.
Roseanna Cunningham, MSP for Perthshire South and Kinross-shire, said she welcomed the move for the Community Right to Buy.
"Like many other local people, I have been incredibly frustrated by the inaction of the owners of the Drummond Arms over recent years," she commented.
"These are the first tentative steps down what could be a very long road but I am delighted by the determination that is being shown.
"It is up to us all, as a local community, to get behind this bid, get the building out of the hands of those who have done nothing but let it sit and rot and ensure that this historic building has a future."
Gordon Banks, MP for Ochil and South Perthshire, added: "I am delighted to support the aims of CCT and their partners in working towards this goal.
"It is unacceptable that a building of such historical importance and prominence is being left to rot in the town centre.
"I hope that in time a community solution can be found to this ongoing problem."