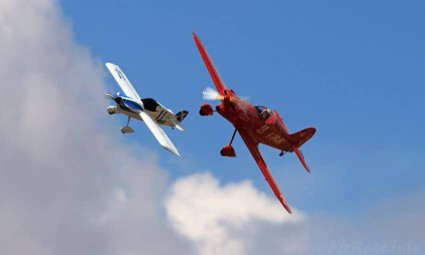 Formula 1 Air Racing sees pilots racing wingtip to wingtip at speeds in excess of 250mph while flying only a few feet off the ground.
Des Hart, of Coupar Angus, is one of 20 pilots from around the world competing in the AirRace 1 World Cup.
The competition has so far hosted races in Tunisia and Spain, with the final race of the season to be held in Reno, USA, this September.
Des, 40, took third in Monastir, Tunisia, second in Lleida, Spain, and currently stands seventh overall in the World Cup rankings.
Des said: "Tunisia was a fantastic honour as the first ever race of this kind on the African continent.
https://youtube.com/watch?v=V4OeUSIEZ34%3Frel%3D0
"Alas we suffered badly with engine problems during the race week.
"But thanks to the outstanding effort of our engineering team we were able to make the podium, finishing third in the Silver Class.
"For the Spanish race in Lleida we made a number of changes to the aircraft and found nearly 20mph, putting us on the front row of the grid."
Unfortunately during the semi-final race Des again suffered technical problems in the blistering 42C heat, putting him at the back of the grid for the final.
He continued: "The aircraft was nicely dialled in by this point, however, and we managed to fight our way through the pack to take second in the Silver class.Had we started on the front row first place would have been in our sights."
Des a rookie racer only last year and surprised everyone by winning the Silver class.
He added: "The aim for 2015 was to continue to hone my racing skills, gain experience and make the podium which we've consistently achieved.
"Next year we plan to step up into the much faster Gold Class but require sponsors to support our challenge to become one of the top five Formula 1 Air Racing teams in the world."
Each race will be televised around the world later this year with highlights already available online at www.AirRace1.com.