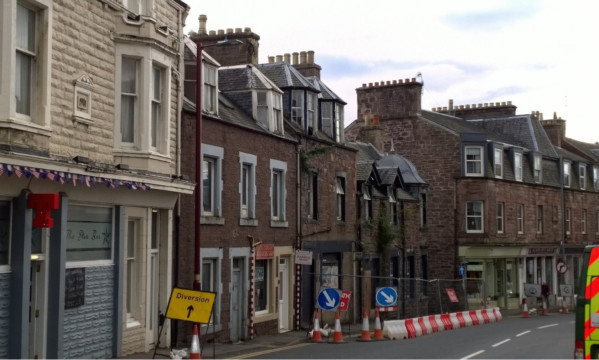 The £1.8 million transformation of a long-abandoned Strathearn hotel is taking shape.
It has been announced that the 14 affordable homes being built on the site of the former Crown Hotel, East High Street, should be available by the end of the year.
The hotel, which sits in the centre of Crieff, had lain unused and derelict for 17 years until Kingdom Housing Association secured funding to redevelop the site. It was decided to demolish the old building due to its dilapidated state.
Bill Banks, the chief executive of Kingdom Housing Association, said the new flats will provide "high quality" homes and claimed they would meet the "growing need" for affordable housing in Crieff.
"This has not been an easy project to develop, due to it being located in the town centre and within a conservation area and the site being subject to various constraints," he said.
"When we first considered the project we wanted to redevelop the original building. However, the building had been derelict for too long. It had not been maintained and earlier attempts at renovations had left the building unsafe, damaging its structural integrity."
Local Councillor Rhona Brock added: "The site has created a very much-needed housing development. The flats are very bright and roomy, affordable and very cost-effective. The views towards Turleum and the hills are a real treat."
Councillor Ann Cowan said: "I was delighted to see that the most up-to-date ideas on heating and sound insulation have been incorporated, as well as good use being made of the available space.
"The overall impression is one of light, spacious, comfortable flats, well provided with good storage. I believe that the use of the area beneath the building for car parking is a first for Crieff."
The development should be completed before the end of November.
Kingdom Housing Association received £1.1 million funding from the Scottish Government's affordability housing supply programme and the town centre housing fund.
Perth and Kinross Council also provided £45,000, while the balance of the costs was funded by Kingdom Housing Association.
The project fronts on to East High Street and the flats will be accessed from Ramsay Street.
Kingdom Housing Association has a management agreement in place with Fairfield Housing Co-operative in Perth, which will provide local management services for it.