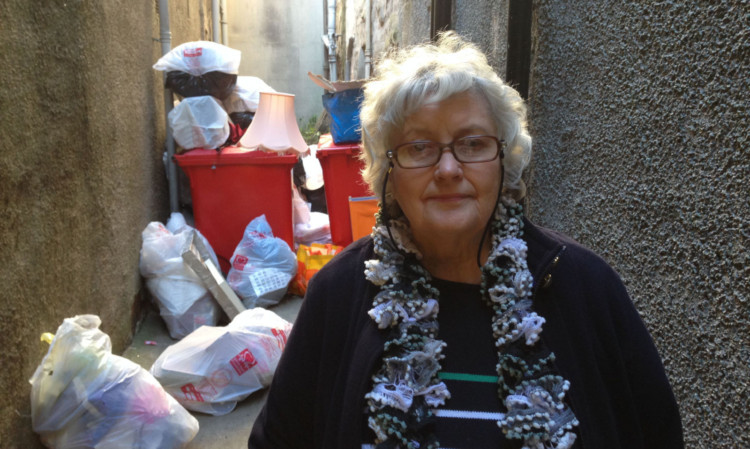 Homeowners in Perth's High Street have begun a war of words with a charity over unwanted donations dumped at the back of a shop.
They also claim that British Heart Foundation (BHF) delivery trollies have damaged the walls and door of the communal close and they are demanding cash for an upgrade.
Piles of goods can often be seen behind a metal gate at the back door of the High Street charity shop.
Moira Dewhurst, who owns a flat in the building, said: "It's an eyesore and it has been going on for years.
"I've met with representatives of BHF, sent them letters and they said they'd speak to the manageress, but nothing has changed.
"I'd like it to be smartened up so that when we come in we don't see that rubbish. Even if they put a screen up, that would be better.
"It's such a lovely, old building and the charity is bringing down the area. They're not being responsible neighbours.
"We're going to try to get the corridor decorated, the lighting improved and a secure door fitted but they need to do their bit too."
Sandra Brown, who owns several properties in the building, wrote to the store manager last month.
In the email, seen by The Courier, she said: "In the past, the trolleys that have been used to transport the goods to the back of the close have severely damaged the walls and the door.
"I know in the past Mrs Dewhurst and, more recently, my husband have, at their own expense, repaired the wall area," she went on.
"We would, therefore, ask that you would be good enough to contribute something towards the cost of the new door and entry system and undertake to use the area with more care in the future.
"We will be redecorating the close in the near future, we are awaiting prices and we would hope that BHF would take responsibility for some of the cost for this, also."
BHF area manager Diane Daley insisted staff are "very mindful of residents when disposing (of) rubbish" from its Perth shop.
"The shop disposes of rubbish outside its back door which is not a communal area," she told The Courier.
"The bins are emptied three times a week to ensure they never overflow."