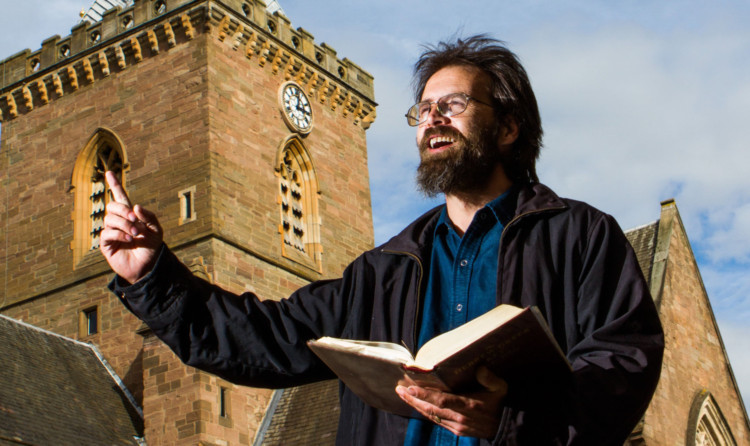 A committed Christian who was arrested after speaking up for street preacher Josh Williamson has been inspired to evangelise in the High Street.
Joe McLoughlin, 43, stepped in when police ordered Mr Williamson to stop his sermon because he was "too loud".
The pair were driven to Perth police station where officers attempted to issue Mr McLoughlin with a £40 fixed penalty notice. But the Letham resident, a full-time carer for his elderly mother, refused to sign the paperwork and plans to take legal action against Police Scotland.
He said: "I did not accept. I refused this ticket. I don't feel like I was properly charged with anything. They talked about breach of the peace, obstructing justice and section 13 of the public order act. They've left me in confusion. I don't know what I was arrested for.
"I've made a statement and it's in the hands of my solicitors."
The events unfolded in Perth High Street on Wednesday afternoon after police received complaints about 27-year-old Australian Josh Williamson, a pastor at Craigie Reformed Baptist Church.
Mr McLoughlin claims officers were heavy-handed when he refused to stop speaking up for the clergyman. He said: "One of them put my hand up my back and frogmarched me to a van. He told me now I am being arrested for 'making a fool of myself in the f*****g High Street'."
Mr Williamson, who is expected to return to preaching in the High Street on Saturday at midday, said: "A man who had been listening began to protest at the police stopping me.
"The man then turned to the crowd and began to address them about freedoms and civil liberties. The police at this stage left me and went to the man. I was behind the van and couldn't see what happened, but my wife said the police were very physically rough with this man."
A police spokesman said: "We can confirm that a 43-year-old man was arrested and subsequently issued with a fixed penalty notice following an incident in Perth High Street on September 18."
Despite his ordeal, Mr McLoughlin was back in the High Street yesterday, bible in hand, preaching to passing shoppers.
He said: "It's 10 years since I did this and you could say I was inspired by Josh. The thought behind it is, if we don't use this right we'll lose it.
"My granddad fought for the right to have freedom of speech and what the police did insults everyone who fought for that freedom. That's really what is at stake here. I was scared by the police response to Josh. I feel like he was exercising his right to freedom of speech and I was defending his right to freedom of speech.
"It's given me an incentive to go back out on to the streets and I got quite a positive reaction. A couple of people stopped and spoke to me."