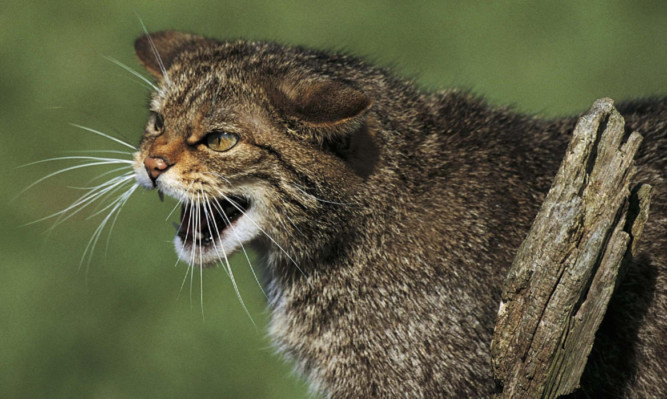 Cloning is the key to saving a Scottish icon that is rarer than a Bengal tiger, it was claimed yesterday.
With the Cairngorm Wildcat Project coming to an end last year, the future over the species' preservation remains uncertain.
No follow-up plan has been announced to protect the estimated 150 breeding pairs of wildcat that remain in the wild.
In an attempt to kickstart conservation proposals, Mid-Scotland and Fife MSP Murdo Fraser has called for the Scottish Government to "step up" efforts.
He suggested cloning should be considered, as interbreeding with domestic cats is an ever-present threat to wildcat numbers.
"Cloning may sound far-fetched, but a leading scientist involved in the Dolly the sheep project has given his backing to possible wildcat cloning, as have the Royal Zoological Society of Scotland," he said.
"The Scottish wildcat has a special place in the hearts of Highland Perthshire residents and thousands of visitors are drawn annually to the Highland Wildlife Park at Kincraig to watch it in action."
This option has already been considered by embryologist Dr Bill Ritchie, who was involved in cloning Dolly the sheep.
He agrees that it could save wildcats from extinction and started working on a new technique almost two years ago, although no further progress has been reported since and the proposals appear to have fallen by the wayside.
A spokesman from Scottish Natural Heritage, which supported the Cairngorm Wildcat Project, revealed they were working with "key" wildcat conservation partners on a plan of action.
"We are committed to working across as many fronts as possible to rescue wildcats from their current parlous position," he said.
"Much of the action will focus on protecting wildcats in priority areas from the threats posed by feral domestic cats.
"This includes working with local communities to promote domestic cat neutering and vaccination.
"We are considering captive breeding and other innovative approaches, but a cultural shift in responsible cat ownership is needed before this iconic species is conserved for future generations."
Although they have been resident in Scotland for more than two million years, in recent times the species has become extremely rare due to a combination of habitat loss, disease, vehicle collisions, hunting and interbreeding with domestic cats.
Concerted efforts have been made to protect the breed, most significantly at the Highland Wildlife Park and at the Wildcat Haven project in Lochaber.
The Cairngorm Wildcat Project, which ran for three years, aimed to raise awareness of the plight of the mammal and although no official plans have been made, some of the work launched during the initiative will continue.
This includes volunteers from charity Cats Protection neutering feral cats found in the National Park, gamekeeping staff using wildcat-friendly predator control, use of intensive camera trapping to analyse local populations and the continuation of education work.
For further information on proposals to protect Scottish wildcats from extinction, go to highlandtiger.com.