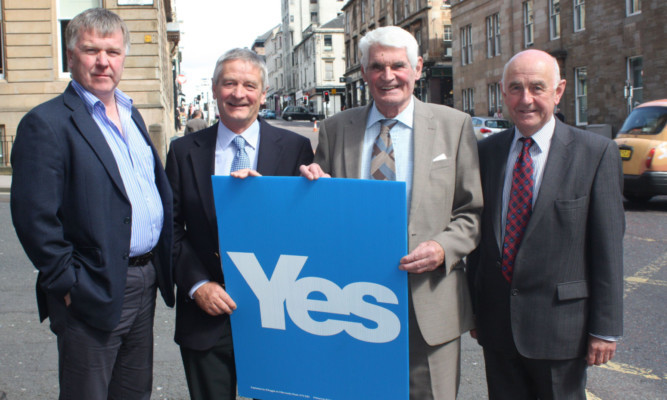 Four former presidents of NFU Scotland have officially come out in favour of a Yes vote in the forthcoming independence referendum.
The quartet three Johns and a Jim have been rumoured for months to be about to make their move. At a press conference in Yes campaign headquarters in Glasgow they firmly nailed their colours to the pro-independence mast.
John Cameron, John Kinnaird, John Ross and Jim Walker have between them 19 years' experience of leading Scotland's main farming lobby group.
If there is a central theme to their argument it revolves around the belief that Scotland has been ill served in European Union negotiations by a succession of Defra ministers.
Jim Walker asserted that these ministers were not independent operators and had since the 1990s been simply driven by a UK Treasury imperative to steadily cut back farm support.
John Ross said: "Scottish farming must resist any further diminution of influence, and we cannot go into the future facing years of uncertainty."
John Cameron was president of NFUS from 1978 to 1983 and has rarely been far away from the corridors of power in Brussels since then in various capacities.
"We need our own representation in Brussels. Scotland is 85% Less favoured Area and 15% non-Less Favoured Area. England is exactly the opposite, and that makes Westminster politicians less likely to argue our case."
John Kinnaird, pointing out that he was an arable farmer with beef, said he agreed. "Scotland's voice is usually ignored. I am concerned about a backlash against Scotland if there is a No vote, but be very clear I do not see this as a vote for a political party."
Asked where other former NFUS presidents stood on the matter, Mr Walker immediately criticised George Lyon, former Lib Dem MEP, rapporteur on CAP reform in the European Parliament and leader of Rural Better Together.
"George was an interim NFUS president for a year before he became a politician. He has no track record and no experience of dealing with the EU as a farmer representative."
Mr Walker also poured scorn on the suggestion that the group had no obvious backing from the food processing and marketing sector.
"The market for Scottish produce will not stop the day after independence. Anyone who suggests that there is only a premium for Scottish products because we are part of the UK is talking rubbish," he said.
John Ross, immediate past chairman of the Moredun Foundation, took a similar view on research funding much of which is currently UK funded.
"Research commissions will go to wherever there is first-class research, and I have no fears that we will attract funding in the future.
"A lot comes from outside the UK in any event."
All four were convinced that an independent Scotland would soon be back in the EU as a full member state. According to Mr Walker it would be "within a year or two".
Asked if there were any downsides envisaged, Mr Ross said: "From the farming point of view, I can see no negatives."
John Cameron added: "Since devolution everything related to farming has been positive."
Richard Lochhead, Cabinet Secretary for Rural Affairs, Environment and Food, described the move as "very significant".
* John Ross CBE, from Portpatrick, Dumfries and Galloway, is a livestock farmer.
He was NFUS president between 1990 and 1996 and chairman of the Scotch Quality Beef and Lamb Association from 1997 to 2000.
Between 2002 and 2012 he was chairman of Moredun Animal Diseases Research Institute and Foundation.
* Dr John Cameron CBE, who farms at Balbuthie in Fife, became NFU Scotland's first long-term president in 1978.
During his term, the union was able to take an active long-term role in the affairs of the Common Agricultural Policy.
He was a member of the agricultural praesidium in Brussels for five years and
was first chairman of the EEC Sheepmeat Committee.
He is a past chairman of the QMS Standard Setting Committee for cattle and sheep, and is a Fellow of the Scottish Agricultural College.
* Jim Walker, who graduated in accountancy from Edinburgh University, took over the family farm in the 1980s and now rears beef cattle and sheep on 3,500 acres near Sanquhar.
He was chairman of Quality Meat Scotland from 2003 until 2005 following five years as president of NFU Scotland.
He acted as a consultant to Robert Wiseman Dairies from 2003 until 2008.
Joining Argent Energy in 2003 as vice-chairman, he became operations director in 2005 and managing director in 2008.
* John Kinnaird was vice-president of NFU Scotland from 2000 until 2003 and president from 2003 until 2007.
He chaired the Scottish Government Review of Veterinary Surveillance, is a director of the Moredun Research Institute and a Fellow of the Royal Agricultural Societies.
He is a partner in a 600-acre farm in East Lothian.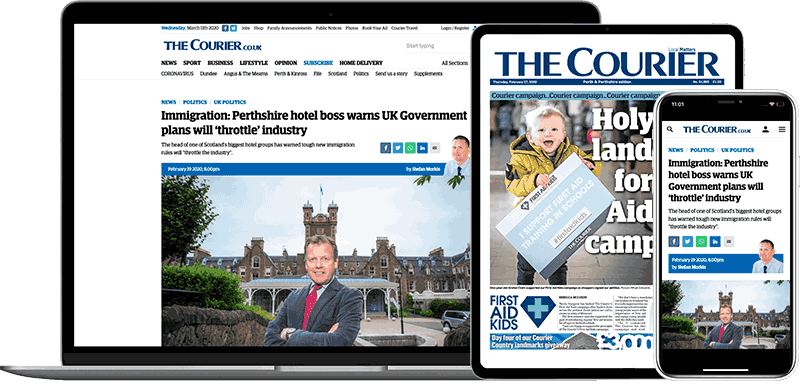 Help support quality local journalism … become a digital subscriber to The Courier
For as little as £5.99 a month you can access all of our content, including Premium articles.
Subscribe