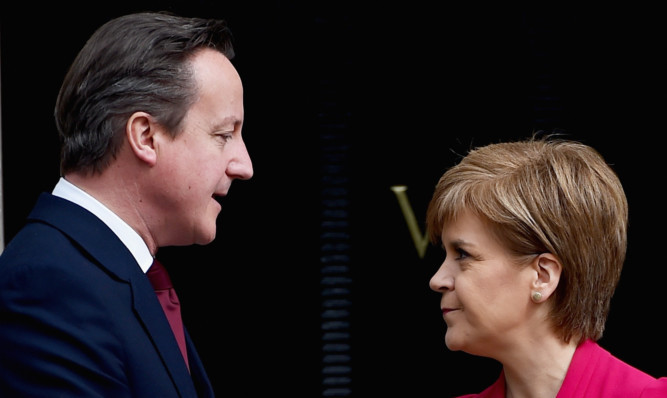 Ruling out another vote on independence indefinitely would be "wrong", Scotland's First Minister has insisted.
Nicola Sturgeon said she respected the result of last year's historic ballot, which saw Scotland vote to remain part of the UK.
But exactly a year after that poll, she told David Cameron he is "living on borrowed time" as she spoke about the prospect of a second independence referendum.
While the Prime Minister said it was "time to move on" from last year's ballot, promising action to ensure the Scottish Parliament is a permanent part of the UK's political landscape, Ms Sturgeon told an audience in Edinburgh: "We respect last year's result.
"It would be wrong to propose another referendum without a fundamental change of circumstances or a strong indication that a significant number of those who voted No last year had changed their minds.
"But it would also be wrong – in the face of a clear and material shift in circumstances or in public opinion – for any one politician or party to rule out another referendum indefinitely.
"Because the key principle is democracy. Politicians can propose and campaign. But only the people can decide."
She added: "Only the people can decide if we will have another referendum.Only the people can decide when that will be.
"And only the people can decide if Scotland will become independent."
Another referendum could be sparked if Scotland was removed from the European Union against its wishes in the referendum that is planned before the end of 2017.
Ms Sturgeon said: "Last year we were promised our place in the EU was safe – but only if we voted No. How times change.
"I have said before – and I repeat again today – that if Scotland was to find itself facing a EU exit that we hadn't voted for, demand for a second independence referendum could well be unstoppable.
"It would be a material change to the circumstances in which last year's vote was taken."
The SNP manifesto for next year's Holyrood elections will set out more detail about the timing and circumstances that could trigger a possible second independence referendum.
But there has been speculation the nationalists could use a vote to renew the Trident nuclear weapons system, which is based in Scotland, as another trigger, or the continuation of the Conservatives' "austerity" economics.
While the independence referendum has led to the promise of more powers for Holyrood, Ms Sturgeon said: "Right now, what people see at Westminster is a Tory government failing to fully deliver on the vow it made on more powers for our parliament.
"They see a Tory government continuing to impose austerity on working people and the disabled – way beyond anything required to reduce the deficit and in spite of Scotland electing 56 anti-austerity MPs.
"And they see a government arrogantly pressing ahead with plans to renew Trident – at a cost of £100 billion – before the House of Commons has even voted and while our public services suffer the pain of their cuts."
She said that "more than anything" explained the surge in support for the SNP and rising support for independence.
Membership of the SNP has grown from 25,000 a year ago to more than 112,000 today, Ms Sturgeon said, with the party also winning an unprecedented 56 of the 59 Scottish seats in May's general election.
Meanwhile two polls this month have suggested that a majority of Scots could now be in favour of leaving the UK.
The SNP leader said: "In the last twelve months, there have been 24 polls on independence. Every single one has shown support for independence higher than it was on this day last year – some have even put independence in the lead.
"So, my message to David Cameron today is the same as it was when I met him just after the general election.
"What happens to support for independence in the months and years to come will depend as much on what you do as it will on what we do.
"And, right now, you are living on borrowed time."
She told Mr Cameron: "If you continue to ignore Scotland's voice, if you continue to disrespect the choice that people across this country made in May, more and more people will conclude that Westminster simply can't deliver for Scotland.
"So, it is your choice, Prime Minister – but know that Scotland is watching."
Ms Sturgeon hit out at a "Tory government, with just one MP in Scotland, imposing deep cuts on working people, jeopardising our place in Europe and threatening to rip up hard-won and long-valued trade union and human rights".
In the wake of the referendum there was a "new and powerful mood" that Scotland's "voice as a country would continue to be heard," she said.
But the SNP leader added: "It was a mood and a moment that was spectacularly misjudged by David Cameron, as he stood on the steps of Downing Street and chose to make Scotland's expression of self determination all about a Tory obsession with English votes for English laws.
"As a somewhat tired and emotional nation watched an arrogant Prime Minister pronounce that it was time for Scotland to know her place again, the determination to make our voice heard more loudly than it had ever been before grew stronger."
The First Minister also had a message for new Labour leader Jeremy Corbyn, urging the veteran left-winger to join the SNP to campaign against austerity "in a way that his predecessor refused to do".
She added: "At this crucial time I urge Labour's new leader to show that his party will put the rights and protections of workers in Scotland before partisan opposition to further powers for our parliament.
"When the Scotland Bill returns to the Commons the SNP will propose the devolution of powers over trade union and employment law.
"Jeremy Corbyn must reverse Labour's opposition to the devolution of powers, back our amendment and enable our parliament and this government to take a different approach."
The First Minister also used her speech to fire the starting gun on the SNP's Holyrood election campaign, with the vote 230 days away.
John Swinney, the Deputy First Minister, will be the party's campaign director Ms Sturgeon announced, while SNP deputy leader Stewart Hosie will "oversee the development of our manifesto, a manifesto that will set out, not just policies for the next parliament, but a vision for this country for the next decade and beyond".
Ms Sturgeon also said that "talented and inspirational" Mhairi Black, the youngest MP at Westminster, would spearhead a campaign aimed at young people.
The independence referendum was the first time 16 and 17-year-olds were given the vote, and in the wake of that this age group will now be able to vote in Scottish Parliament elections.
"Next May will be the first ever opportunity for 16 and 17-year-olds to vote in a national election," she said.
"The participation of our young people in the referendum last year was one of its resounding successes.
"And I am determined that the views and priorities of our young people – of Scotland's next generation – will be at the very heart of this election."
If the SNP wins next May's Holyrood elections – as polls suggest it will – the party will have a "historic" third term in office, Ms Sturgeon said.
She also said she would "have the privilege of asking the people of Scotland, for the first time, to elect me as First Minister".
She said: "My task – our task – is to convince the people of this country that I will be the best First Minister, that we are the best team, and that we have the best policies and the best vision to lead Scotland into the next decade.
"And if we do that, we will not just win. We will win another majority. And let me be clear today. Another majority government is our aim."