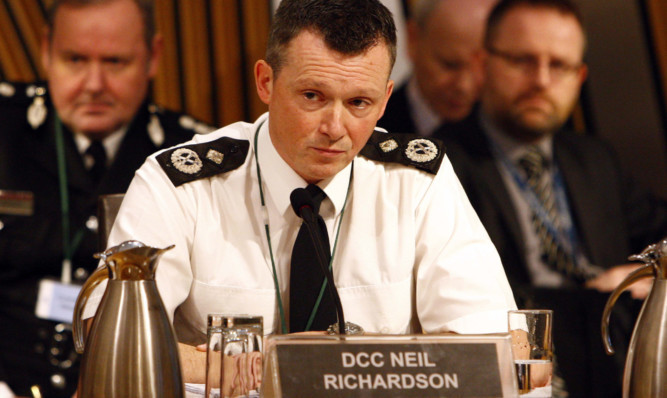 Police are scaling back the number of officers they send to football matches, a senior officer has said.
Neil Richardson, Police Scotland's deputy chief constable who is vying for the top job, said they have changed their approach to policing events like football games and in the "majority of occasions" that has led to fewer police officers being deployed.
He insisted yesterday that risk assessments are still carried out on all pleas for event support and the "overwhelming imperative is public safety", but said roles could be performed by properly-trained stewards instead of officers.
He also told MSPs that staffing cuts were part of "living in a world where savings have to made".
Later yesterday Nicola Sturgeon announced that the police budget would be protected from next year.
"We have moved on in our thinking there," Mr Richardson told the Holyrood committee in response to a question on how they cover football.
"It doesn't need to be police officer security. Internal events can hire their own stewards to make sure the safety of the public is optimised.
"What we do on every single event that we are asked to support we will do appropriate planning work, we will do risk assessments and we will put forward a view as to how we think that safety can best be managed.
"In the majority of occasions we have seen that has led to fewer police officers, so long as the organisers make sure they put in the appropriate stewarding.
"And when we do put police officers in, we have a policy of making sure we have cost recovery."
The change in approach has been revealed following the atrocities in Paris last month, when the France v Germany game was targeted by suicide bombers.
Counter terrorism police bosses say they are working hard to tackle security threats to events.
Jim Baird, the acting chief superintendent in charge of emergencies, events and resilience, said last week they have been looking closely at "well over 1,000 events up to the New Year" after the atrocities in Paris.
Police Scotland is having to find £1.1 billion of savings by 2026.
Mr Richardson admitted police officers are being redirected to perform civilian staff duties but said it was not happening "systematically".
He also called for flexibility over employing officers or civilian staff, which is restricted by the SNP's policy of maintaining the number of officers at 17,234.
Ms Sturgeon told a media briefing yesterday her Government will increase the day-to-day budget for the Scottish Police Authority next year "given the security situation".
Asked by The Courier on her stance on arming more police officers, she said she was proud of Scotland's "long tradition" of a routinely unarmed force, but added it was important the police service "responds to changing circumstances".