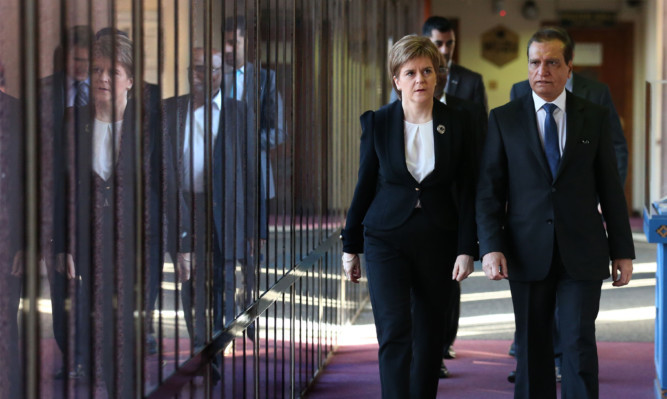 Nicola Sturgeon urged Scots not to bow to the aims of terrorism by turning on each other following the atrocities in Paris.
The First Minister told Holyrood the attacks were "designed to drive a wedge into communities" and called for a Scottish response of "defiance and solidarity not of fear and division".
As the first refugees arrived in Scotland from camps near the Syrian border, Miss Sturgeon said we must "resist the instinct to retreat or turn on each other".
She told MSPs: "The terrorists who committed these atrocities in Paris claim to be Muslims but in truth terrorism has no religion.
"The evil actions of these terrorists do not speak for Islam, instead they are a perversion of that faith and a deep insult to the millions across the world who adhere peacefully to its values."
https://youtube.com/watch?v=X_oY_e3yFAM%3Frel%3D0
Miss Sturgeon has chaired three meetings of the country's resilience committee and taken part in two meetings of the UK's Cobra committee.
People should continue to go about their day-to-day business and be "vigilant and alert but not alarmed", she said.
Christian Allard, the Dijon-born MSP for the North East region, thanked "from the bottom of his heart" the many Scots who had supported him and his compatriots.
Patrick Harvie, leader of the Scottish Greens, said the attacks were designed to "provoke the mindless reaction we tragically have already seen in parts of Scotland".
Scottish Labour leader Kezia Dugdale called on Scotland to welcome the Syrian refugees with "open and loving arms".
She added: "Let's look at them like we do those Parisians who fled the violence on Friday evening."