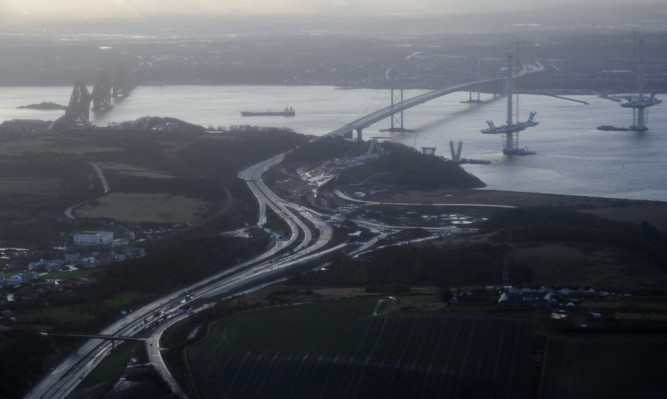 The closure of the Forth Road Bridge will cost Scottish businesses a "huge" amount, according to groups representing firms across the country.
Garry Clark, of the Scottish Chambers of Commerce's Economic Development Intelligence Unit, said the move demonstrated the "fragility of Scotland's transport network".
Mr Clark said: "Scotland's bridges are major infrastructure pinch points and whenever these are disrupted due to engineering or road works, the result is often severe.
"The priority now must be to implement a deliverable travel plan to mitigate at least some of the inevitable disruption that is now occurring. The cost to business will be huge in terms of higher transport costs, reduced productivity and restricted access to customers."
Perthshire Chamber of Commerce warned the closure could cause chaos at Christmas for local firms. "With the bridge being shut over the busiest time of the year, this could affect businesses in Perth and Kinross as visitors face alternative routes and congestion to get to the area," a spokeswoman said.
"We hope that people choose to use the alternative routes and still visit our area over the festive period."
Andy Willox, FSB Scottish policy convener, added: "Small firms from right across Scotland and beyond will be alarmed to hear that the Forth Road Bridge will not reopen until 2016.
"Not only will this closure impact those that use the bridge to bring their goods or services to market, employers of all description will face serious disruption."
Meanwhile, the cost of permanent closure of the Forth Road Bridge has previously been estimated at a staggering £1.5 billion a year. That figure detailed during discussions about the new Queensferry Crossing in 2010 underlines how vital the structure is to the Scottish economy.
At that time, Fife Chamber of Commerce suggested a regional figure for the "absolute and utter damage" failure to build a replacement would do could not be calculated, although the late Alan Russell confirmed one prominent business leader told him: "If the new crossing does not go ahead, the last person out of Fife should switch off the lights."
Evidence given to the Forth Crossing Bill Committee in 2010 highlighted the £1.5 billion impact on the Scottish economy should no bridge be built taking into account the increased cost of transport, the increased costs for consumers and commuters, the public transport delays and the increased use of private cars to make the journeys currently made using the existing bridge.
Dave McDougall, from the West Lothian Chamber of Commerce, told the committee even brief closures had a major effect on the economy there, adding: "The impact of such disruption is immediately seen in West Lothian, and it is devastating."