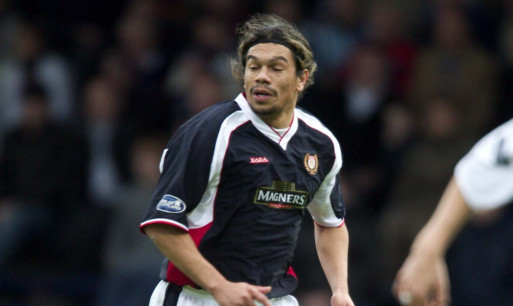 Former Dundee FC star Fabian Caballero is now hoping to win votes as he embarks on a new career as a politician.
The 37-year-old had two spells for the Dark Blues between 2000 and 2005, becoming a hero with fans.
But the former striker is now up for election in Paraguay and hopes to be voted in as a councillor in capital city Asuncion.
He said: "I am standing for election in Asuncion and hopefully enough people will vote for me to get into office.
"It is definitely a big change from playing football in Scotland with Dundee, but is something I always wanted to do.
"I have always had a desire to be useful and serve my community.
"Oscar Tuma, who will become the mayor, asked me to join his team and hopefully I will become the sporting director for the city."
And the Argentine hopes his spell as a footballer will help him win votes, and he can help those from the poorest parts of the country.
He added: "I am standing under the name Tyson Caballero because that is how people in Paraguay know me.
"I hope their memories of me as a football player will help me when it comes to the election.
"They know I am passionate about the city, about sport and that I will work hard for them.
"I want to build centres of sport for the poorest areas of the city and help to raise awareness of a healthy lifestyle.
"That is my biggest aim in politics, to serve and be useful in helping people become aware of their health."
Caballero was speaking ahead of the testimonial for ex-Dens Park keeper Julian Speroni whose Crystal Palace side will face Dundee on May 26 at Selhurst Park.
He said: "I loved my time at Dundee and in Scotland.
"I still keep in touch with some of the people I played with at Dundee and am coming over to London for Julian Speroni's testimonial next month.
"I watch some of the games through the internet when I can."