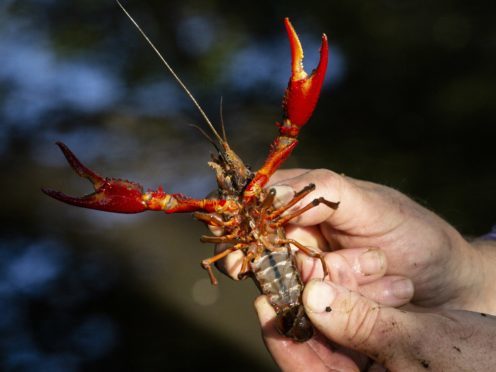 Fisherman Klaus Hidde wades through the ponds and creeks of Britzer Garten park in Berlin shortly after dawn to check his 17 traps, as he spearheads the city's effort to rid its waters of invasive crayfish.
The spoils are rich. As he shakes out the nets, hundreds of crayfish tumble into his basket.
The 63-year-old, whose family has fished for generations, is in the unlikely position of practising his trade in the middle of the bustling capital.
"To catch crayfish some 500 metres away from the Brandenburg Gate, that's quite sensational," he said, referring to the landmark next to Tiergarten park, where his other traps were set as he held up a 12cm crayfish with two big claws.
Crayfish, indigenous to the southern US and Mexico, were probably introduced into the German capital's ecosystem a few years ago after aquarium pets were dumped into local rivers, but their population has boomed over the past two years after particularly mild winters.
The invasive animal, commonly known as Louisiana Crayfish, or procambarus clarkii in Latin, has been crowding out the native Edelkrebs crayfish population and has also introduced a fungus, commonly known as the crayfish plague, which has been harming the already-endangered German crustacean.
Last year the city caught and destroyed 4,000 of the Louisiana crayfish and introduced eels, a natural predator, to eat all they could, but they were still unable to slow the onslaught.
Overwhelmed by the numbers and dismayed by the futility and waste of the crayfish cull, Berlin wildlife commissioner Derk Ehlert instead turned to the private sector.
He granted Hidde an exclusive licence to collect as many of the crustaceans as he could and sell them to local restaurants.
They are catching on quickly at some of the city's hippest venues and have acquired the nickname "Berlin lobster" for their bright red appearance when cooked.
"It is hard work and the meat pieces aren't as big as with other crustaceans, but it's a lot of fun," said Mark Runge, a customer enjoying crayfish at a stall in the Kreuzberg neighbourhood's trendy Market Hall No. 9.
He described the taste as "somewhere between lobster and shrimp".
"I would say this animal belongs on the plate because it's an invasive species," Runge said.
Hidde plans to sell the delicacy on sandwiches with mayonnaise and lemon juice at his own fish stand during concerts and festivals in Berlin this summer.