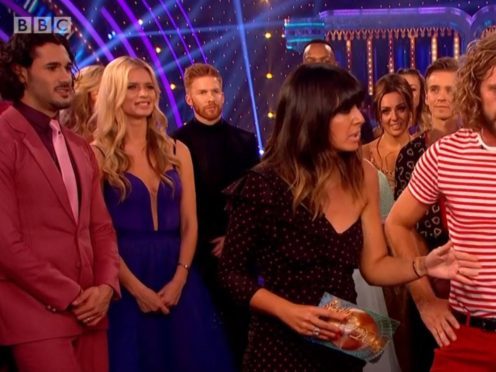 Strictly Come Dancing viewers could not tear their eyes away from Neil Jones as he watched his wife Katya and her dance partner Seann Walsh talk after their dance.
Katya and Seann were at the centre of a media storm this week after they were spotted kissing following a night out.
Seann has since been publicly dumped by his girlfriend, but dancer Neil, who married Katya in 2013, is believed to be standing by her, despite the controversial kiss.
But fans watching the show on Saturday spotted Neil hovering in the background as Katya and Seann discussed their Charleston, with some claiming that he looked upset or angry.
One fan wrote on Twitter: "Neil giving the death stare to #SeannandKatya #Strictly."
Remarking on his stony-faced look, another viewer wrote: "Neil genuinely looked like a bouncer watching Seann and Katya."
"Poor Neil is absolutely fuming. Don't think making a joke about the whole scenario was the best move from the Beeb," one fan said.
They added that Seann "messed up plenty of times, was overmarked".
"I'm not even watching Strictly this year but I am obsessed with this shot of Neil watching his wife and Sean(n), dressed as John Wick," one person wrote.
Others shared sympathy for Neil, with one fan tweeting that they "just wanted to hug" him.
"My heart broke for poor Neil in the background," another said.
There was little mention of the kissing drama during the broadcast, apart from hosts Tess Daly and Claudia Winkleman making an early quip about "the odd headline" over the past week.
Both Walsh and Jones apologised for their actions, first on Twitter and then again on Strictly companion show It Takes Two.