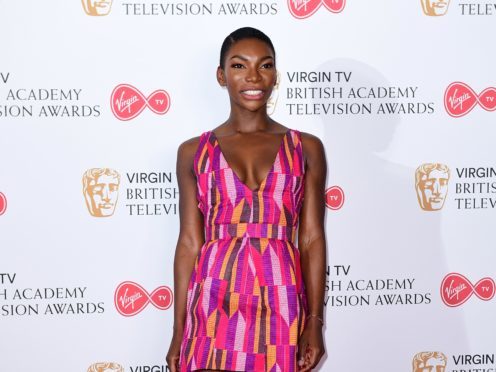 Michaela Coel has said she was drawn to making a London-based movie musical because she wanted to show what the capital is really like.
The Chewing Gum creator and star takes on her first leading role in a film in Been So Long, based on the play by Che Walker.
She told the Press Association: "Che is a working-class Camden man and the characters are real.
"He knew these people – they are real, the bars are real, the stories are real, they are his life. It is his take on London."
She added: "I love Richard Curtis films, I love Love Actually, I love Four Weddings And A Funeral and I think every version of London is valid and one shouldn't exist without the other.
"I call Chewing Gum my baby and this is Che's baby and what he saw.
"The nice thing about it is very London people were cast and we all had a strong rapport and would improvise all the time, and it was because we know where we are from.
"We all came up through Che and we all know what kind of London we are going to show so there was an ease and a fun with that."
She adds: "We were improvising straight off the bat. So we could come to do take two and have to ask, 'Do you remember what you said? Let's go'.
"There is a great fun in that but none of us had filmed in that way before.
"On top of that, it's a musical. So it was fun to stretch the muscles."
Director Tinge Krishnan added: "As soon as I read it, I thought, 'I want to see this'. It wasn't even that I wanted to make it but as a woman and a Londoner I wanted to see it. I was really excited.
"I didn't have any preconceived ideas of how it would iterate out as a film, having not seen the play, and that was probably good.
"Film is a different medium, it's much more immediate and I started getting images in my mind as soon as I was reading it.
"I have seen tons of Che's other stuff so I knew what he brings in terms of poetry and magic.
"His understanding of the feminine and of the masculine is really quite lovely.
"Those were the kind of themes we could massage in and shape something internal, while theatre is different because it's louder and more outward."
Discussing showing a different London than is usually seen on screen, she said: "We knew that we didn't need another Richard Curtis version of London.
"We didn't want one, we want one where there are people that we recognise and people that we see.
"Notting Hill felt a bit missing for us, in terms of representation, so that was quite a conscious decision."
Been So Long will be available on Netflix on October 26.