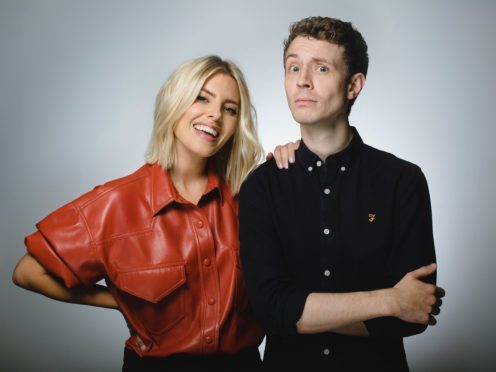 Matt Edmondson and Mollie King have been announced as the new weekend hosts of the BBC Radio 1 Breakfast Show.
They will swap slots with Dev Griffin and Alice Levine, who will host from 1pm to 4pm between Friday and Sunday.
Edmondson and King will take over the morning show from Friday to Sunday between 6am and 10am, while Greg James continues to host the breakfast show from Monday to Thursday.
Edmondson said: "Getting to present the Radio 1 Breakfast Show three days a week is an absolute dream come true, as is working with Mollie (a nightmare is technically still a dream).
"I know we're going to have so much fun, and I can't wait to get started."
King, who started her Radio 1 career as a guest presenter on Edmondson's show before becoming a permanent addition in June, said: "I'm absolutely blown away to have been asked to host the Radio 1 Breakfast Show every Friday, Saturday and Sunday with Matt Edmondson, my partner in crime!
"I remember the buzz I got when I first walked into Radio 1 as a guest, 10 years ago, and that buzz is still with me now every time I step through the studio doors. I can't wait to get started! See you there – bright and most definitely early!!"
Griffin and Levine will now follow Radio 1's Greatest Hits with Maya Jama.
They said: "The thing we will really miss is setting that 4am alarm, but in time we think we might get used to it.
"We love doing the show together, and the afternoons have such a good energy about them – these shows are ideal for our sense of humour and the kind of things we like to talk about. We can't wait to get started!"
Ben Cooper, controller of BBC Radio 1, said: "Radio 1 loves discovering new talent for the BBC and the industry, and Matt & Mollie along with Dev & Alice have been hugely popular with our listeners, on radio, on video and on social."