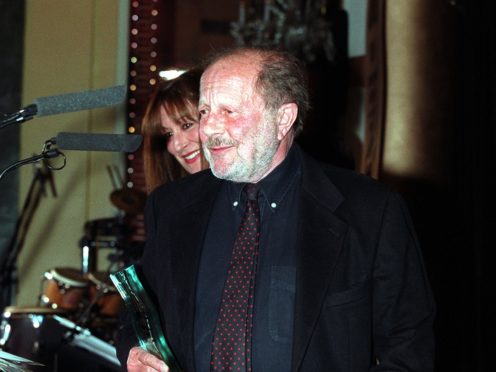 Tributes have been paid to "true great" Nicolas Roeg, the filmmaker behind Performance, The Man Who Fell To Earth and Don't Look Now, featuring one of British cinema's most notorious sex scenes.
The British director's family said that Roeg, who was praised during his long career for his originality, died at the age of 90.
Filmmaker Duncan Jones, the son of David Bowie – who starred in The Man Who Fell To Earth as an unhappy alien – called Roeg a "great storyteller" and "inimitable".
Posting an image of himself as a boy with his singer father as well as the director, he wrote on Twitter: "What an incredible body of work he's left us with.
"All my love to his family," the Moon director wrote.
"Thank you for making so many brave choices and giving this strange little lad in pyjamas an ongoing love of filmmaking."
The BFI (British Film Institute) described Roeg as "a pioneering force of cinema".
He "created some of the most affecting moments of beauty, terror and sadness ever seen. A true great if ever there was one," it said in a statement posted on Twitter.
Roeg's son, Nicolas Roeg Junior, said that the British director and cinematographer died on Friday night.
"He was a genuine dad," he told the Press Association.
"He just had his 90th birthday in August."
The director's 1973 movie Don't Look Now – based on a Daphne du Maurier short story – sparked controversy with a sex scene involving its stars, Julie Christie and Donald Sutherland.
The filmmaker later told Radio 4 show Front Row that false rumours that the scene was real were "very flattering" because it meant audiences thought the film was authentic.
Performance (1970), which Roeg co-directed, starred James Fox as a gangster and Mick Jagger as a reclusive rock star.
The gangster thriller, which was almost not released, is now regarded as one of the most influential films of British cinema despite receiving mixed reviews at the time.
Walkabout (1971), starring Jenny Agutter, made Roeg's name.
The London-born filmmaker's last major film was The Witches, in 1990, which starred Anjelica Huston in the adaptation of the Roald Dahl tale.
Shaun Of The Dead director Edgar Wright said Roeg was a "master of the art" of filmmaking.
"Farewell to the extraordinary cinematic talent, director Nicolas Roeg," he wrote.
"His films hypnotised me for years and still continue to intrigue.
"Along with classics like Performance and Walkabout, I could watch Don't Look Now on a loop and never tire of its intricacies. A master of the art."
Bad Timing director Roeg, who began work in film as a tea boy, reflected on the change in the way his films have been viewed over the years.
"Some of my films have been attacked with absolute vitriol!," he previously told The Spectator. "The critics didn't always get it then — but they do seem to now."