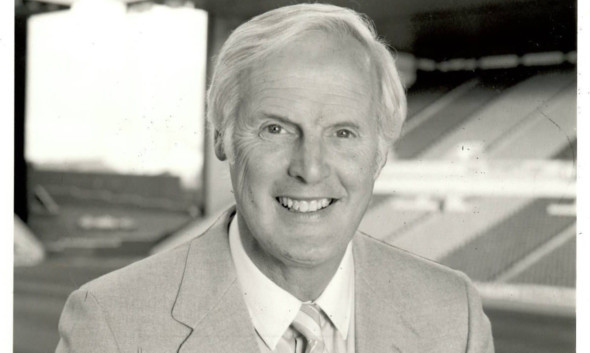 Legendary football broadcaster Arthur Montford, famous for his checked sports jackets and turn of phrase, passed away on Tuesday at the age of 85.
The regular presenter and commentator of Scotsport on Scottish TV for three decades, Montford was a household name across Scotland as he brought the game into people's living rooms.
Some of his commentaries were legendary when he would describe a "stramash in the box" or announce that it was a 'disaster for Scotland' when Ally Hunter let in a goal against Czechoslovakia in the famous qualifier in 1973 when Joe Jordan's goal took the Scots to the 1974 World Cup Finals with a 2-1 victory.
Montford was at the heart of all of Scottish football's greatest moments in the 1960s, 1970s and 1980s, reporting or commentating, and was close to all of the big names like Jock Stein, Willie Waddell, Willie Ormond, Jock Wallace, Alex Ferguson and Jim McLean.
A keen golfer, he worked for ITV on their coverage of golf in the 1970s and interviewed all of the top players including Arnold Palmer and Jack Nicklaus. He then became golf correspondent for the Sunday Post.
Having come from a long line of newspapermen, Montford gave credit for his presentation style to his father's influence.
He said: "My father told me that no matter how poor the game was, whether you were writing it, describing it on radio, or commentating on it, you must look for something worthwhile to talk about and do not be negative. And it was a thought that I always carried with me".