 i don't suppose I'd like to live next door to it – or more probably, opposite it – especially without the benefit of dark glasses or strategically placed black-out blinds.
But I have a sneaking admiration for the woman who got proper stroppy at not being allowed to rebuild her home and create what I believe is known in certain circles as a "millionaire's basement" in her Kensington town house. As we have all seen this week, in glorious Technicolor, she promptly reacted by having the whole facade painted in garish red and white candy stripes. It is sitting there like a kind of smug humbug or a stick of seaside rock with Made in Chelsea printed right through it, a blinding riposte to the planners and NIMBYS of this choice section of hugely overpriced real estate.
Of course, I know it's childish and petty and the equivalent of a bairn throwing its toys out of the pram or stamping its ickle foot because it's not getting its own way. Only a person with too much money and a hugely inflated sense of entitlement would do something like this. I know it's more than a bit of an eyesore.
A weed, as some folksily opine, is just a flower in the wrong place. Brightly coloured houses may be OK in Balamory (which doesn't exist) and Tobermory and Nordic seaside terraces and Cornish coastal villages (which do) , but not in the suburbs of London where it might upset the local oligarch and cause the value of his investment to plummet. I'm only surprised that exterior paintwork in that neck of the woods seems not to require planning permission
I though EVERYTHING required planning permission these days, especially when connected with residences of the rich.
But I'm seriously impressed by the speed with which this lady got the painters in AND persuaded them to work during the wee small hours. This transformation appears to have happened overnight, Money definitely talks by the look of it, even if what it says isn't to the taste of the other inhabitants. Perhaps if someone told them it was the architectural equivalent of a Bridget Riley or a vertical Mark Rothko, they might warm to it a bit more. Street art is all the rage these days, after all.
Having said that, you have to feel for the neighbours in sunny Kensington, too. There seems to be an epidemic in certain metropolitan boroughs of "building down" and creating basement cinemas and swimming pools and other such necessities that the rest of us somehow manage to stumble through life without – or at least without having them literally on our own doorstep. Permanently living beside banks of scaffolding, with banging, drilling and dust-creating going on for months or even years on end must indeed be like some kind of living hell.
Mind you, if I see my neighbours surreptitiously consulting colour charts and sneaking industrial quantities of specially mixed Dulux or Farrow & Ball's Rectory Red onto their premises this spring, as a young man's fancy lightly turns to thoughts of rones and guttering, I may have to take speech in hand. If only to ask them if they can get their painter to give us an estimate for a colourful homer on our splintering pastel woodwork while he's at it.
The whole thing reminds me of the sublime soap storyline where Vera Duckworth covered No 9 Coronation Street with brightly coloured stone cladding and christened her newly des res The Old Rectory. There's a pattern emerging here – and it's not necessarily in broad red and white stripes. I knew there was a reason that 50 Shades of Grey was so popular among the chattering classes.
Of course, in other, less august (whisper it – working class!) neighbourhoods, ASBOs are regularly threatened and served upon those who overclub on Christmas decorations that flash and flame all night – and in the case of some sad individuals who wish it was Christmas every day, all year round. That would certainly make you long for a nice, quiet frontage that looks like an over-ripe Andy Pandy suit.
At least you can't see that in the dark.
INTO EVERY Scot's life a little rain must fall – it's a rule – but climate change still has a lot to answer for. Take this recent exchange between two golfing chums, bearing a striking resemblance to slobbish Oscar and neat-freak Felix of The Odd Couple.
Brushing a hand across the somewhat stoury bonnet of his car, "Felix" asked his mucker: "Had much of that Sahara sand on your car then?" Came the instant reply: "You could empty Broughty beach onto my car and nonodoy would notice!"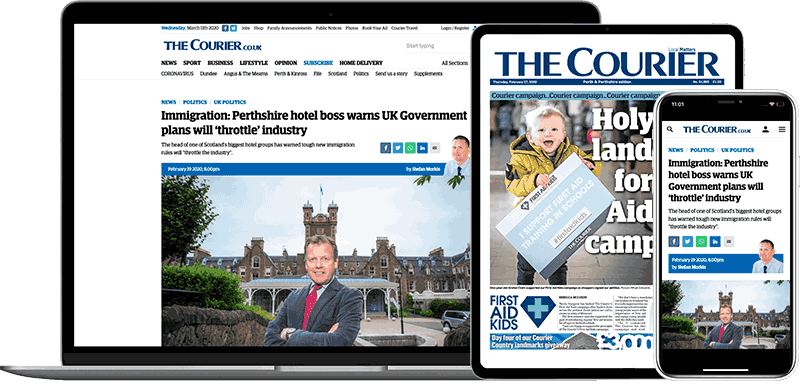 Help support quality local journalism … become a digital subscriber to The Courier
For as little as £5.99 a month you can access all of our content, including Premium articles.
Subscribe