 Sir, Jennifer Dempsie appears to be foolish and deluded in her March 26 column headlined, "we need SNP MPs to stand up for Scotland's interests and to keep Miliband focused".
She implies that only Scottish National Party MPs would 'stand up for Scotland's interests'.
This is quite frankly nonsense.
A Scottish MP of whatever political hue would be representing his or her constituency and wanting the best for both it and for Scotland.
The SNP do not hold a monopoly on this.
Indeed it can be argued that as the SNP independence project was rejected by the Scottish people in the referendum of September 2014, and as the SNP policy of full fiscal autonomy would result in austerity max for Scotland, a vote for an SNP MP would be voting for someone who does not have the best interests of Scotland at heart.
The SNP is, and always has been, a party whose prime objective, indeed some would say only objective, is the splitting up of the United Kingdom.
This would seem to make them almost uniquely ill qualified to participate in a United Kingdom government.
What is important in the coming general election is the interests of the many against the interests of the few and not the interests of Scotland against the rest of the United Kingdom.
The interests of a checkout worker in Perth or other parts of Scotland are the same as a checkout worker in Carlisle, in Bolton, in Gateshead, in Truro or in Peterborough.
The interests of a hill farmer in Highland Perthshire have more in common with a hill farmer in the Yorshire Dales.
I have confidence that Ed Miliband as Prime Minister will work for the best interests of all ordinary UK citizens, wherever they reside.
He has no need of Alex Salmond and his synthetic socialists.
Helen Taylor. Glenfender Cottage, Amulree, Dunkeld.
A92 duallingseems unlikely
Sir, A serious flaw ran through Archibald Lawrie's letter on the creation of a dual carriageway on the A92 from the north of Glenrothes to the Tay Road Bridge (March 28).
A meeting on the subject in the Lomond Centre, Glenrothes, reported in The Courier, was reminded that this trunk road is the responsibility of Transport Scotland not Fife Council. It was informed that the cost of dualling was likely to be around £750 million.
I think there is no prospect of this happening in the next few decades. Even if the finance was to be made available, there will be a strong environmental lobby against it. We could expect years of design controversies, inquiries and appeals.
How many of the MSPs who represent people who live along the route, or the seven list MSPs for the Fife area, see dualling of the road as an absolute priority? That is not to say improvements are not vital. The trouble is there are so many difficult points along the route, including the Redhouse roundabout to the north of Kirkcaldy, the Preston to Balfarg section in Glenrothes, the section either side of the village of Freuchie and further north. I don't think the recent meeting reached much of a consensus on what should get priority. Someone in Transport
Scotland has to make a decision on the matter, however, and the sooner the better if safety is to be enhanced.
Bob Taylor. 24 Shiel Court, Glenrothes.
Glamis Prom will stir soul
Sir, The best news I have heard this year is that, after an absence of two years, the Glamis Prom is to return. It is a delightful experience that reaches into your soul.
You don't need to be a classical music geek to enjoy it. The night of July 18 sounds like it will be a scorcher when Elaine Paige will perform with the Royal Philharmonic Orchestra.
So look out your folding table, chairs, opera glasses, Champagne and picnic. You'll wish you went years ago.
Ewan Stewart. Markethill, Coupar Angus.
Holyrood is not home of God
Sir, The Scottish Government has allocated money for the repair of some historic Scottish church buildings, using of course, money collected from us as taxpayers.
I do not necessarily object. But I do object to your headline when reporting this (March 27) 'Pennies from heaven to restore Scottish churches'. The only logical interpretation of this is that it claims that our SNP Government is inspired by God in heaven when it decides how to distribute our cash.
An interesting political propaganda line, but, to some of us at least, a not very convincing assumption.
David Stevenson. 5 Forgan Way, Newport on Tay.
Clarify this Gaelic spelling
Sir, When you approach Perth by road from the north, the sign in Gaelic is spelt Pheairt but when you arrive by rail from the south, the name of the railway station is spelt Peairt.
Could someone in Perthshire (if there is anyone who speaks Gaelic) advise on the correct spelling. If there is no one who speaks Gaelic, perhaps Alex Salmond, who I assume does, could clarify this for us.
Garry Barnett. The Garden House, Campsie Hill, Guildtown.
The wisdom of the over 60s?
Sir, The wisdom of allowing 16 and 17-year-olds to vote in Scottish elections has been brought into question, but I believe we should go one further than that and question the wisdom of allowing the older generations to vote, specifically those above the age of 60.
We know from voting trends in the independence referendum that the vast majority of older people voted to keep one of the lowest state pensions in Western Europe, voted for billions to be spent on nuclear weapons, voted for a system that has resulted in thousands of their fellow countrymen and women being reliant on foodbanks, and voted to retain a system that sees one in four Scottish children raised in poverty.
The younger generations, on the other hand, over-whelmingly rejected the failures of Westminster for the chance to build a better nation.
They say that wisdom increases with age, but I would question the "wisdom" and "maturity" of people who should know better than anybody to rely on promises from Westminster in relation to Scotland, and who have condemned their grand- children to an uncertain future under a
Westminster system that does not give two hoots for Scotland.
RMF Brown. Markinch, Fife.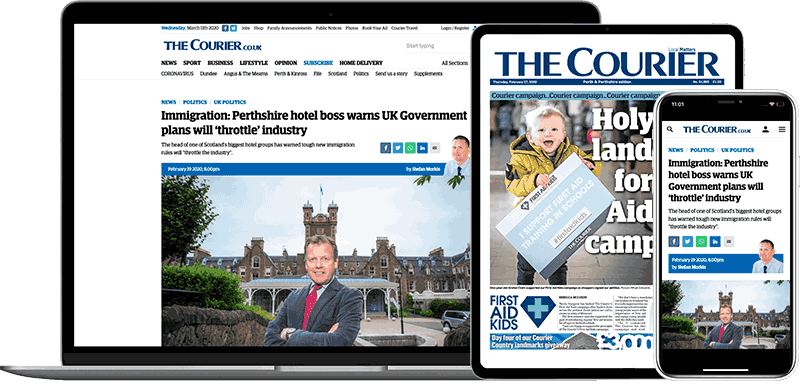 Help support quality local journalism … become a digital subscriber to The Courier
For as little as £5.99 a month you can access all of our content, including Premium articles.
Subscribe