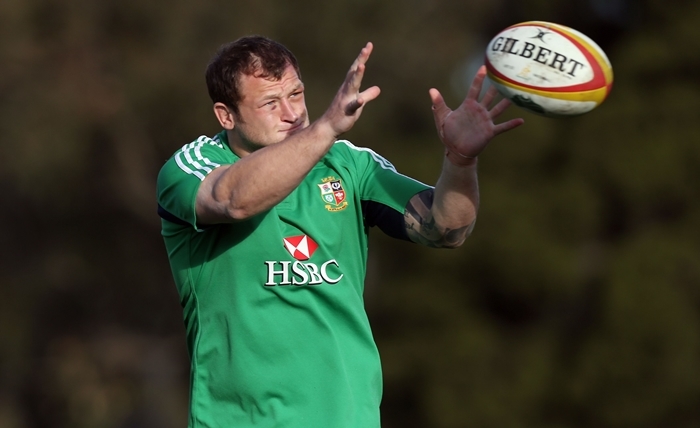 The time for being polite about the 2013 Lions is over.
I think most Scots understand and accept that while the Lions are a four-nation concept, selection is based wholly on merit. I think we also understand (although accept less readily) the perception throughout the world that our rugby is not very good at the moment. We certainly accept that the only way to change that perception is for our national and pro teams to play better rugby.
However the treatment of Ryan Grant in Saturday's second test was the nadir of Scotland's relations with the Lions in recent times. The Scots have been considered as an afterthought on the last three tours, but this time Warren Gatland came close to ripping the thistle off the badge.
Grant sat in a white chair for 80 minutes as a replacement prop, something that never happens in professional rugby, much less international rugby. This despite the man on the field in his position, Mako Vunipola, struggling early on with scrummaging technique and late on with obvious fatigue.
Gatland and his forwards coach Graham Rowntree could hardly have demonstrated their lack of faith in Grant better had they stuck up a banner in the back of the coaches' box.
Was it merited? Grant had a solid game in the midweek match against the Rebels. He played well for Scotland for the year he's been in the team, including a dominating performance against – guess Australia in a test match just over a year ago.
Vunipola had one international start on his cv. England wouldn't risk him in the Six Nations. Most pundits who know a bit about scrummaging thought Grant should have started the second test.
The Glasgow prop clearly won't play in Sydney on Saturday once Alex Corbisiero has recovered from injury, and I don't believe that any of the four Scots on tour will now get a place in the matchday 23.
This Lions tour has been one long insult for Scottish rugby. Just three original selections, one of whom, Sean Maitland, would certainly have been an All Black first had he been chosen by them.
Richie Gray went less on his playing form of the last year and more on his profile. He's certainly not played that well, but no worse than the other second rows.
Stuart Hogg's treatment has been abysmal. He's played two games in the position he won (wholly merited) selection at, and has been thoroughly mucked about at a position he hadn't played since he was at school.
If that wasn't bad enough, in his second game at 10 he was given midfield partners straight off the plane whom he'd barely met. Predictably, it was the Lions' only loss of the tour, but thankfully, the young Hawick lad's self-confidence is almost unshakeable.
Good Scottish Lions candidates like (initially) Grant, Greig Laidlaw, Matt Scott, Jim Hamilton, Kelly Brown and Tim Visser have been roundly ignored. How Matt Stevens, an embarrassment on tour and already retired from international rugby, got picked ahead of Euan Murray is in Gatland and Rowntree's minds alone.
The clear inference of all this is that, contrary to his pre-tour platitudes, Gatland has no respect whatsoever for Scottish rugby.
But that's fine, as long as we don't take it lying down.
The only way to change narrow opinions of our rugby is to rub them in opponents' faces. I hope every Scottish international player takes what has happened this summer personally, and is flying out of the blocks next season to prove Gatland and everyone else's lazy perceptions were wrong.