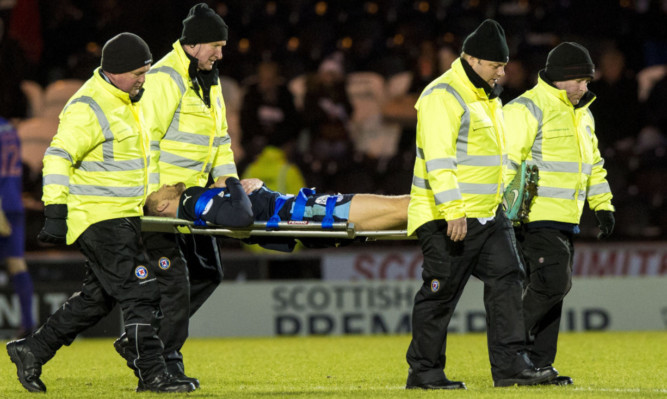 Dundee boss Paul Hartley has revealed that Iain Davidson is facing at least a fortnight on the sidelines after sustaining a horrific ankle injury against St Mirren at the weekend.
The 31-year-old, who scored one of the Dark Blues' goals in a 2-1 win over the Buddies, was caught by a St Mirren player's studs in stoppage time and had to be carried off.
Davidson suffered a gruesome deep gash on his ankle which needed stitches and he will definitely miss this Saturday's game against Hamilton at Dens.
The manager said: "Davo has a badly gashed ankle and we won't know until the next couple of days how long he will be out for.
"It was just unfortunate the way the boy landed, his studs caught Davo's ankle.
"We think it might be two to three weeks. It was a really deep one but hopefully there won't be any tissue problems.
"So we will just have to see how it settles down.
"It's unfortunate as he has been doing really well for us.
"It just seems to be the way it has gone with injuries for us this season.
"Gary Harkins has a cut head but he also has a shin problem so we will have to wait and see how he is for the weekend.
"Paul McGinn will start back training after letting his back settle down for 10 days.
"However, he will probably miss the weekend also.
"We are still trying (to bring players in). We have enquired about a couple of players but we will just have to see over the next day or two to see whether there is a possibility of something happening.
"They would be loan deals."
A player who has been linked with a possible loan move to Dundee is Paul McGinn's brother, Stephen.
Hartley confirmed that the Sheffield United midfielder is someone whose name has come up.
He said: "He is a name that has been mentioned to us.
"I don't really like commenting on other players but there has been a lot of names thrown at us.
"We have looked at a couple of possibilities and spoken to their clubs. We are waiting to hear back.
"There might not be any movement but we are trying."
Another player linked with a move this time away from Dens at the start of this week was James McPake with Chesterfield quoted as being interested in the centre-half as his contract was up in the summer.
That was news to Hartley who insisted McPake wass going nowhere.
He said: "I don't know where that came from, to be honest with you.
"I had a look at it but it is news to us. He has another season on his deal here.
"I'm not sure if it was someone stirring something up but I have spoken to James about it and he said exactly the same.
"He is happy here. We have looked at James' contract and we would like to do something on that in terms of his future here.
"He is a key player for us and someone we want to keep."
Another person who is more than happy with life at Dens is Hartley himself.
The club opened talks with the manager about extending his deal with the Dark Blues at the start of December but he is no closer to signing a new contract.
That though is something Hartley is relaxed about, preferring instead to concentrate on negotiating a hectic January and further cementing his side's place in the Premiership.
When asked if he was any further forward with a new deal, Hartley replied: "No. It's something you are probably better taking up with the club.
"I think it is just because we have been in the middle of a really busy period.
"We haven't got round to anything else just now.
"It might be something we leave for a little while, get over January and speak about it then.
"But no, we are no further forward. It is not something that concerns me anyway. I still have another 18 months left here.
"I am happy here and we are trying to build something at Dundee.
"We will probably get round the table again in six weeks or so.
"I just want to get things sorted, to make sure our league position is good and we can take it from there."