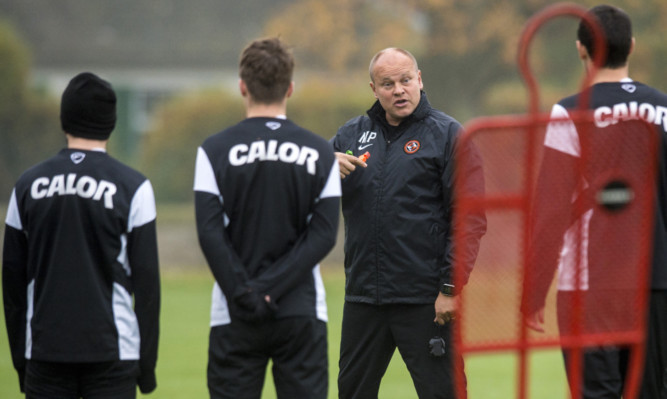 Mixu Paatelainen has no regrets about his blunt assessment of Dundee United's Celtic Park capitulation.
Because, according to the Tangerines' boss, the Tannadice club's plight allows no time to tip-toe around the problems they face.
"Rubbish with a capital R" was one of Paatelainen's observations after the 5-0 hammering by the league leaders on Sunday, and he isn't back-tracking.
He explained: "Do I still stand by what I said? Absolutely.
"There's no point bulls****ing anyone, you are as well going straight to the point.
"You don't want to waste time going around things, go straight to the point and show the players exactly what happens in certain situations.
"I don't think anyone likes criticism, you'd have to be a right masochist if you enjoyed it.
"Nobody likes it, but it's part and parcel of football.
"We watched the game back but the video analysis is not there to humiliate someone or make them look stupid, it's about improving.
"We have shown them what they did right and what they did wrong. There were things that the players did well. It wasn't all doom and gloom.
"If you don't give players feedback, how do you learn? It's a continuation of coaching.
"What we trained on we didn't do well in the match against Celtic.
"So I have to look in the mirror and ask how clear I was to the players.
"And the players need to look in the mirror about how they took the information on board and did what was asked."
Paatelainen now hopes to see a United team with a point to prove against Ross County on Saturday, and a United team that has learned from its mistakes.
"I don't think I need to build the players up because they are determined to show the fans and everyone else they are good players," he said.
"They want to do well for the club and the supporters.
"I don't think that if someone gets criticised then the confidence immediately goes. It doesn't work like that.
"I don't think it's so fragile that it goes immediately.
"You go to the training ground and start building again.
"You tell them if they're doing well in training and correct them if they're not it's like school.
"It's not something you want to give them cotton wool treatment all the time.
"It's a teaching process, like exams and after them the teacher will tell you if you have done well or not.
"We want to improve and it's a coaching process."