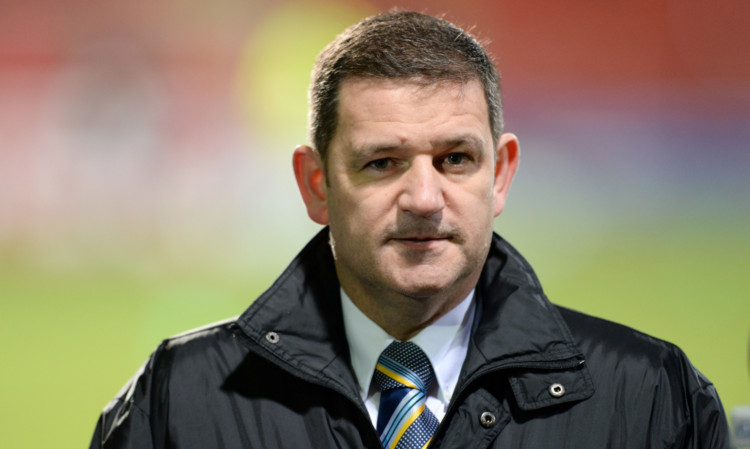 St Johnstone chairman Steve Brown believes there should only be one name in the frame when the manager of the year accolade is handed out McDiarmid Park boss Tommy Wright.
Brown knows first-hand just how hard the Northern Irishman works at the club on the tightest of budgets and he believes his achievements in what is just his first season in charge are deserving of wider credit.
Brown said: "Tommy has to be a candidate for manager of the year.
"He's got us to the Scottish Cup final after 130 years of trying, put Rosenborg out of the Europa League, got us into a League Cup semi and qualified for the top six at a canter with three games to spare.
"When you look at it, I don't see who has a better record considering our resources.
"Derek McInnes has done a great job at Aberdeen, winning the League Cup and sitting second in the league. But Tommy is working with a fraction of their budget.
"I don't know what the likes of Aberdeen and Hibs are spending but you can safely say that our budget is probably about a third of theirs. So to have St Johnstone where we are and into a final, it's a remarkable achievement."
Brown added: "Tommy and I have a great relationship and that's crucial at a club like St Johnstone. We take the mickey out of each other, but away from that we get on really well.
"For it to work at a club like ours you need to have an understanding manager and someone who tunes in to the way we operate. Tommy has done that, he conducts himself really well and is a true gent.
"He's not easily fazed, he'll have the odd rant about referees and stuff like all managers do. But he's very cool and focused on what he wants to do."
Brown also believes that another of his employees, striker Stevie May who scored both goals in Sunday's historic semi-final win over Aberdeen to take his tally for the season to 25, is also a big contender for another accolade.
The chairman insisted: "Stevie is bound to have a chance of getting the Young Player award. I'm totally biased, obviously, but I don't think anyone has done what he's done this season.
"He's scored 25 goals in the league, at European level, for the Scotland Under-21s and in big games like Sunday. He's had his doubters all the way through but he keeps proving them wrong.
"They said he couldn't score against Aberdeen or in big games, well he's put that to bed. Andy Robertson at Dundee United is the other outstanding young player and he's had a fantastic season.
"But for me, with my St Johnstone bias, I think Stevie deserves it."