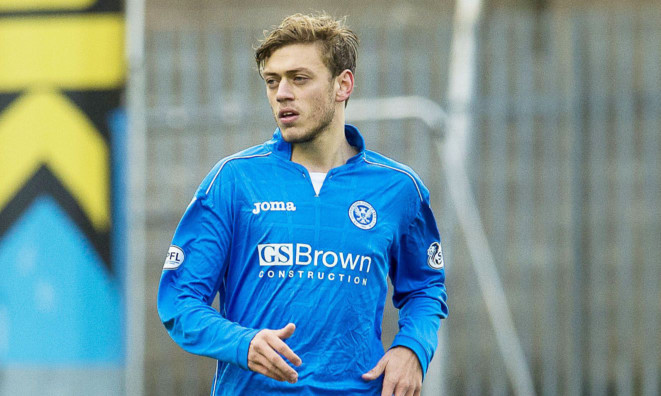 New dad Murray Davidson is the only St Johnstone player looking forward to a six-hour flight ahead of the Perth club's Europa League opening match.
Because it will present a rare opportunity for a few hours of sleep.
Davidson, who curtailed the Northern Ireland training camp without playing a game so he could head home for the birth of his baby daughter, was back on a football pitch at Glebe Park yesterday.
And, with 90 minutes under his belt, the former Livingston man is raring to go against Alashkert.
"The game was a good run-out for both teams.
"For myself it was mainly about fitness because I missed the matches in Belfast.
"This is my first real pre-season in three years because of injuries and other things.
"It's been a short break but I'm delighted I've got all the sessions under my belt and I can't wait to get going now.
"I've done all the hard running and I'm now into the games as well.
"Because it was such a short summer it's not as if we've lost much fitness. Other teams will have to wait six or seven weeks.
"I feel fit and strong. But it doesn't matter how much running you do, you need games. And it was important for me to play ahead of Thursday."
A three-day trip trip to the Asian edge of Europe may not win him any Brownie points with his partner Holly, Davidson admitted.
But the fact he got back to Perth in time for Summer's birth has put some credit in the bank.
"I got the phonecall late on Monday night," he said.
"It was a bit hectic after that and for a while I was a wee bit nervous, but I got there for the birth in plenty of time in the end.
"We've got a wee girl, Summer, who was born on Tuesday. I'm over the moon about it.
"Holly's not been happy with a few things lately starting with me going over to Belfast in the first place!
"I think I got away with it by making it back in time.
"Everybody's moaning about the flight but I'm delighted because I'll get a good sleep. The longer we're away the better!"
After being plagued by injury in recent seasons, Davidson will certainly appreciate another Europa League campaign for Saints.
He said: "I've been involved in three of the previous games, and was lucky enough to captain the side in two of them.
"So I have been part of it.
"I can't wait to play in Europe again.
"We've had footage of them (Alashkert) and by Thursday I'm sure we'll know what we need to do against them.
"Sometimes it can be hard. It's not like playing another Scottish team who you'll come up against four times a season.
"I was watching the footage last night to get up to speed.
"They like to play football. They're in Europe for a reason and we're not expecting an easy game.
"We'll try and do what we've achieved over the last couple of seasons, and bring a positive result back to McDiarmid."