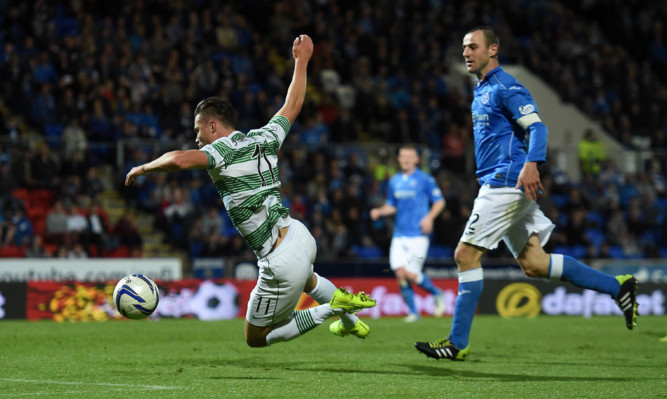 St Johnstone captain Dave Mackay would be "astonished" if his controversial red card against Celtic is not wiped out.
The Perth defender was ordered off last Wednesday when he was adjudged to have brought Derk Boerrigter down in the box.
Mackay has appealed the ban that would automatically follow and his case would appear to be watertight in the wake of the SFA taking a second look at the incident and giving the Dutchman a two-game suspension for diving.
The SFA later confirmed that Boerrigter had accepted the ban and the Parkhead club will not challenge it.
The full-back is now hoping that night will indeed follow day and he will be cleared to face Aberdeen at the weekend.
Mackay said: "With Boerrigter being cited and offered a two-game ban, surely there is only one decision to be made as far as my appeal is concerned. I've got to wait to hear officially but surely my red card will be rescinded now.
"I've not heard a thing yet but I think it was the right decision to cite Boerrigter. It doesn't help us though. The game is done.
"Taking action after games has happened before. I can remember Sone Aluko getting done when he was up here so people know this can happen.
"We had a meeting with the referees just before the start of the season and we were told they would be looking at people they think might have dived.
"If they weren't punished at the time for a dive, they warned they would go back and take a look at it and give them a two game ban where it was a dive. So they have stuck to their word with the Boerrigter one.
"I assume my appeal will be upheld now. I would be astonished if there was any other outcome. I certainly hope to be available for selection for the game against Aberdeen."
He added: "I still think we should have had a penalty at 1-0 and that could have got us right back in it. The Celtic player (van Dijk) admitted he caught me and it was a penalty. The game was in the balance.
"We weren't guaranteed to score but it would have been a great chance to get level. Unfortunately it is only the referee that matters and he didn't think it was a foul."
Things have moved on for Saints and Mackay on the pitch but not in a good way.
The skipper admitted that the performance at Hamilton on Saturday, and the first half in particular, was unacceptable.
"The first half we were extremely poor," he pointed out. "They played well but it was like the home game with Spartak.
"We were second to every ball, we couldn't keep the ball and they just looked sharper.
"We can't hide behind playing four games in nine days. That would be looking for excuses. We are all fit enough. It's only mid-August so we can't say we are tired.
"We couldn't get a foot on the ball, we couldn't get tight enough and, while they are a decent team, we made them look excellent.
"We were out-worked, out-fought and out-played in that first half. It was there for all to see and that isn't something than can usually be levelled against us. It just wasn't good enough.
"We were much better second half and we had a lot of pressure and Lee Croft offered us more when he came on, putting across some great balls but we didn't have many clear cut chances."
The win in Dingwall on day one has meant this has been a far from calamitous start to the season but Mackay isn't content.
"Three points is a disappointing return from the first three games," he insisted. "Especially after winning against Ross County and doing well for long spells against Celtic.
"We weren't helped by decisions in that game but we should have taken a point from it at least."