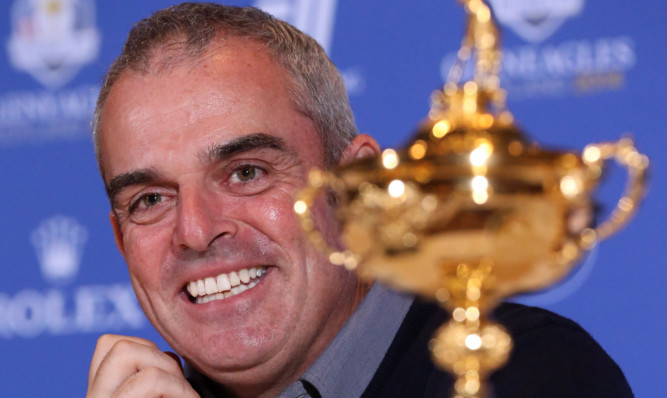 After all the intrigue, jockeying and talk, the man who kept his mouth shut ended up as Ryder Cup captain.
Paul McGinley played the quiet man and was the unanimous choice apparently of the European Tour Players Tournament Committee to skipper Europe at Gleneagles next year.
He is the first Irishman to be given the honour.
The 46-year-old Dubliner was the long-time favourite for the Gleneagles job but faced late challenges from fellow Irishman Darren Clarke and Scotland's Colin Montgomerie, captain of the winning European team at Celtic Manor in 2010.
Clarke withdrew last week, and was part of the remaining committee in Abu Dhabi last night that agreed McGinley as captain. Montgomerie also had left the meeting prior to the discussion, which committee chairman Thomas Bjorn said concentrated on five candidates, including two other Scots in Sandy Lyle and Paul Lawrie.
However, it was clear that the public intervention, mostly on Twitter, by senior players including World No 1 Rory McIlroy, Medinah hero Ian Poulter and others in vocal support of McGinley had convinced the 10 eligible voters left on the committee.
It eventually took only an hour's discussion "pretty short compared to other captaincy decisions" according to Bjorn before McGinley was summoned back to the committee room to be told he had the job.
"Absolutely thrilled and delighted," said McGinley.
"This is arguably the strongest-depth European Tour we've had in history and to be leading the cream of the crop is a huge honour.
"To lead Europe in Scotland at Gleneagles against one of my heroes in Tom Watson is very humbling."
McGinley said he had purposefully not entered the at times frenzied debate about the captaincy in the build up.
"I knew I had the support of the players," he said.
"I felt the less I would say the better my chances were," said McGinley.
"We had the situation of Rory speaking for me with such authority. Ian Poulter was extremely strong for me. Luke Donald and Justin Rose and so many players came out totally umprompted on my side.
"I wanted to ensure the dignity and esteem of the position so I felt it better not to enter the debate. And when I felt I had (those guys) behind me, I didn't need to speak."
McGinley paid tribute to Montgomerie among the captains he'd served under in three Cups as a player and two more as a vice-captain he has never lost while playing or in the back-up staff saying he would take "a little from everyone".
"I've been blessed to play under a who's who in the history of European golf: Seve, Sam Torrance, Bernhard Langer, Monty and Jose Maria (Olazabal) and one of the things I intend to do is continue the Seve legacy," he added.
There will also be a clear Scottish theme to his captaincy, he promised.
He added he was "relishing" the chance to take on Watson, "one of my great heroes".
"Tom is a wonderful person and a great ambassador for the game of golf, has been for a long, long time," he continued.
"To have an opportunity to compete against him in a captaincy sense will be a real thrill for me."
Bjorn said five names had been "thoroughly" discussed at the committee meeting Lyle, Montgomerie, Lawrie, Miguel Angel Jimenez and McGinley but it had been "very obvious" early on in which direction they were headed.
"We listened to our players who we represent and made the right decision, Paul's a captain who will bring the Tour together," he said.
"It's never an easy choice to make but we had to choose one and we think we chose the right one.
"It never got to a show of hands. I thought it would have taken longer than it did. Everyone contributed before the decision was made."
Bjorn added that there are no plans to introduce a rule stipulating that captaincy of the European team be a one-time opportunity.
"The general feel on the committee is that you have one go at it, but we don't feel the need to tie our hands in the future.
"We don't feel the need to go down that route when at the moment we have so many candidates.
"We're hugely successful in the Ryder Cup and why should we change a winning formula?"
Tour executive director George O'Grady praised the decision as an example of the democracy of the tour, but said that the process of selecting a captain would be looked at after the media frenzy this time around.
"There has been much speculation, but that might have been a good thing for the tour," he suggested.