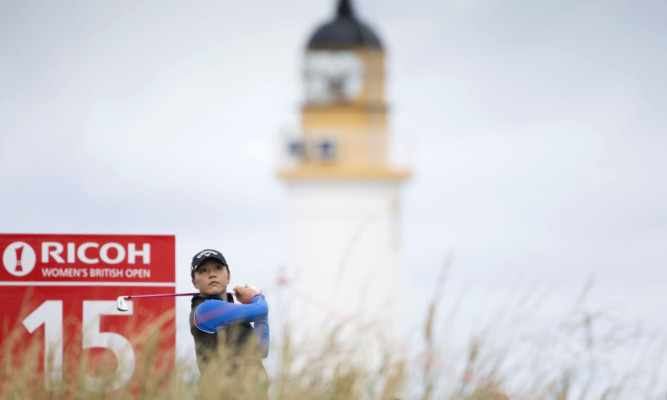 Helicopters circled noisily, Donald Trump mingled in a red cap that looked like it had been bought on the beach at Ayr and a man played "Flower of Scotland" on the tuba on the hotel steps.
Somewhere, the Ricoh Women's British Open finally broke out amid the circus yesterday.
The host turned up at Turnberry with the expected fanfare, causing the championship to stop in its tracks. Lydia Ko, the World No 2, was standing on the 16th tee at six-under but paused to watch as Trump's helicopter did two circuits above the course before landing in prominent position in front of the hotel.
The 18-year-old young star finished with a 66, tucked in behind first round leader Hyo Joo Kim of Korea who equalled the women's course record of 65. The experienced American Cristie Kerr also shot 66 on an ideal day for scoring but the day was really all about off course activities, which must have had the LGU and the LPGA squirming.
After a press conference that was mostly a presidential campaign rally, Trump later ventured out on to the course with his "Make American Great Again" cap, a posse of photographers and TV cameramen in pursuit to "support the championship".
He later lifted off to his Aberdeen course and thereafter back to his Presidential campaign, and even if his support to women's golf and the British Open is fully acknowledged, his departure is definitely for the best as this major championship felt like a complete sideshow rather than the main event it's supposed to be.
It's not just Donald Trump that the championship has to please. Japanese TV requirements mean that the first groups were packed with leading players a situation that would never be tolerated in the men's game.
Thus Lydia Ko's phone alarm went at 3.30 am, and she pressed "snooze" several times before realising she needed to "get going and get out of here".
However the young New Zealander has such a sweet disposition she barely complained, and indeed once on the course at her 6.40 am tee time blitzed the opening nine in 32, rattling in a massive 20 yard putt on the tenth for good measure. In the end, with the wind at her back on the final few holes, a 66 with four straight pars to finish was maybe a little bit of an anti-climax.
Astonishing as it is for someone just 18, Lydia has to be considered the best player in the women's game yet to win a major, but she doesn't go with that hype.
"My goal is to hopefully have one major win in my career," she said. "Sometimes you read stuff and you don't know what to think. I don't look at records, I guess you guys will let me know if I get close to any."
What was she thinking when the Trump helicopter flew overhead? "I was like, man, that's a really nice helicopter," she laughed. "I would love one."
Kim, the 20-year-old Korean who was a surprise winner of the new fifth major on the women's tour, the Evian Championship last year, struck out by herself with a bogey-free round in ideal weather conditions, sunny with just a slight cooling breeze.
Kim speaks no English, but seemed genuinely stunned she was out in front, this being her first competitive experience in the British Open.
"I just found out now," she said through an interpreter after returning her card and finding out she was leading. "I'm kind of surprised, I've never played here before.
"Thankfully it's not windy, and no rain today," she added.
Kerr from past experience far outweighing both the players with her on the leaderboard knows that yesterday was a benign day to take advantage of.
"They say that weather is going to move in again, so you need to keep your head on straight and your wits about you," said the 38-year-old, after a whirlwind round of an eagle, seven birdies and a trio of bogeys, just missing a chance of the 18th to join Kim in front. "It was spectacular today but you need to take it day by day.
"There's no way I'll get ahead of myself. I was proud of my mental game today, not focusing on my mistakes and I need to keep that going."
Kerr, "a pretty good friend" of Trump, didn't feel he had been a distraction.
"I know there was a lot of media speculation around comments that were made but everyone makes mistakes, right?" she said. "The Tour loves Donald, he's done a lot of women's golf and I know the players certainly love him."
Florentyna Parker, in the early morning wave, was the best Briton with a four-under 68 while Catriona Matthew just dipped under par with a 71 but admitted that was the day to go low.
"There's obviously some good scores out there, even if there's still a breeze and it's still difficult," said the 2009 champion. "From the forecast, though, this may be the easiest day we get.
"I was a little annoyed by bogeying the (par five) 17th, but pretty pleased with how I played. I hit into two bunkers off the tee and that's two strokes gone straight away on this course."
Carly Booth battled for a par round of 72 to be the best of the other Scots.