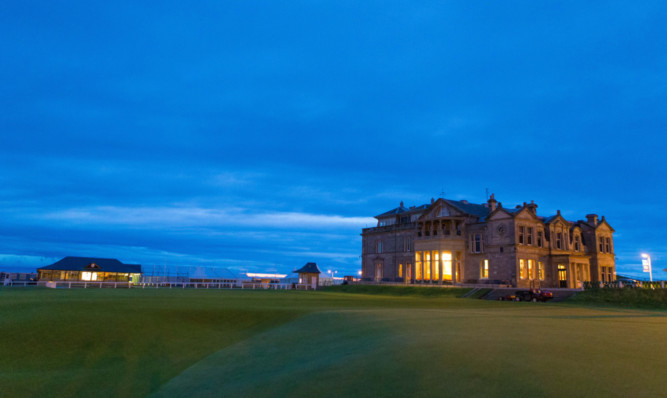 Self-regulation of slow play hasn't worked but the R&A will not seek to impose pace of play strictures on "one of the top two or three issues" in golf, says chief executive Martin Slumbers.
The R&A have convened a conference of key stakeholders in the Old Course Hotel, St Andrews this week titled "Time for Golf" aimed at "starting a serious dialogue" about the slow play issue perceived by many as driving down potential participation in the sport.
Among those attending are senior figures from the USGA, the R&A's co-governing body for the game, as well as officials from Europe, Japan and Australia, representatives of the European Tour and Ladies European Tour and key figures from the elite amateur game. Among today's speakers will be leading Scottish tour professional Stephen Gallacher.
Yesterday's session concentrated on the recreational game rather than the effect of the elite game, with reports on the widely differing experience of the effects of slow play in the UK and across the world.
The conference, the first the R&A have hosted on the subject since 2003, aims at producing an R&A-approved manual with best practice at combating slow play at all levels but this will not involve the imposing of a policy where it governs the game, in all territories except the USA and Mexico.
"It's been an issue for many years," admitted Slumbers, the new R&A chief executive who is hosting the conference with the R&A's rules chief, david Rickman.
"A lot of people I think hoped that self-regulation would work and that people would sort of correct themselves but it is now one of top two or three issues within the game.
"I think it's important we have a campaign over a number of years. This is not going to happen overnight, but we have been getting slower for the last 20 years or so and it is correlated with participation.
"Getting this discussion out there is positive, but we want to start a dialogue, not set an agenda. I don't think a strict policy would work, it wouldn't be effective, it wouldn't be treating people with respect.
"We'll make this manual public once we get everybody's comments in and make it available. There are plenty of ideas, lots of similarities and some will work in some clubs and other things will work elsewhere.
"We need to all work together to play a bit faster instead of being too negative. That would be a success."
While today's session will concentrate on the effects of slow play in the elite game at professional and amateur level, recreational golf amounted to "98 per cent"of the game that's played, pointed out Slumbers.
"What's struck me about today's session is maybe we do need to have a conversation with players and even devise a pace of play handicap, maybe slow, medium and fast," he said.
"We should be more honest. We know the fast players at our club, why not out them out first in the monthly medal and let them have their fun and balance it out.
"Course set up in another thing. We can set up a course to be unplayable but we have to remember that the average handicap in this country is about 18 so let's set it up so that 18 handicappers can play."
It would be "disingenuous" to say the professional game had no influence on slow play, he added, but the club game was the major issue, he continued.
"The professional game is their business, and the amateur game is our sport and our enjoyment," he said.
"The professional golfers are role models for amateurs, especially the young amateurs, without a shadow of a doubt and I think their behaviour is important, but I think that on the whole they are extremely conscious of that, and do a very good job.
"I want to work with (European Tour chief executive) Keith Pelley and together we've talked a little but it's the amateur game, the club golfer that is the issue here."