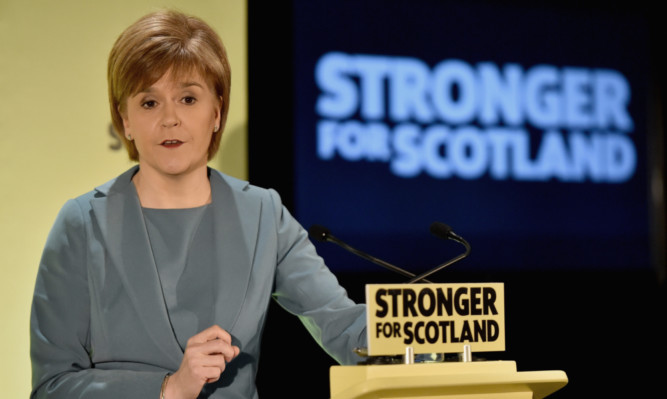 Nicola Sturgeon has insisted it is "wrong" that the Conservatives can govern in Scotland with just one MP north of the border.
The SNP leader made the comments as a new poll suggested the SNP could enjoy unprecedented success in the May 7 General Election, winning every single seat north of the border.
The final Ipsos MORI poll for STV News before the election put support for the the SNP on 54%, compared to 20% for Labour, 17% for the Tories and 5% for the Liberal Democrats.
Using these figures, the Electoral Calculus website predicts that Ms Sturgeon's party would take all 59 seats in Scotland.
With polls across the UK pointing to a hung parliament, the Scottish First Minister said sending a large block of SNP MPs to Westminster could see the party make "significant progress" in its efforts to introduce more progressive politics across the UK.
Ms Sturgeon told a women's business breakfast in Glasgow that "Scotland can make its voice heard, we can make a big, big difference".
She added: "This election, which all the polls suggest will result in a hung parliament, really does gives Scotland an unprecedented opportunity to make our voice heard at Westminster.
"Scotland doesn't need to be powerless in the face of remote Westminster decisions. We can, if we so choose, make Westminster sit up and take notice.
"At this election, if we elect a powerful team of SNP MPs, we can make our voice heard more loudly than it has been before and then we can use that voice to make Westminster work better for all of us."
She insisted next week's ballot was "emphatically not about independence", adding Scotland had chosen to remain part of the UK in last year's independence referendum.
Ms Sturgeon said: "We chose to be part of the Westminster system, so what I want is to ensure Scotland's voice, as long as we are part of that system, is as loud and effective and as powerful as possible.
"That's what I'm campaigning for, to lock the Tories out of government, because I do think it is wrong that throughout many years of my lifetime we've had Tory governments govern Scotland with perhaps one or zero MPs in Scotland.
"So, this time, let's try and be part of getting them out completely but then using our voice to make sure they are replaced with something better, not with a Tory-lite government but with a progressive, bold and better government. That's where SNP MPs can have a big, big influence."